Product Description
1. Electric control system of twin screw extruder
Frame structure control cabinet
Imported electrical elements
Imported temperature control system
Imported driving system
Interlock and multi-protection
Adopting imported PLC (OMRON or SIMENS ) to achieve optimized process control. Stronger function, steady performance and much higher accuracy.
It can be also accomplished full-set link-lock protection, trouble safeguard, fault alarm cluing and so on
Operation interface on touching screen is visual and marked, which is brief and easy to use.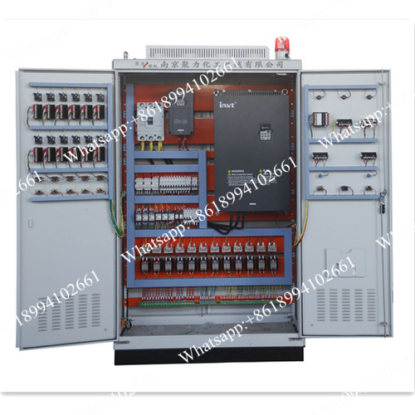 2.The Gearbox
New-style project of parallel three-axises driving makes the convey axis, convey chain, decelerate and the torque assignment get together, which keep it compact, and the key bearings are imported.
The select material of drive components is dainty. Including super intension alloy cementing steel, cementing and quenching , gear grinding technics ,strengthening of tooth face. So they can ensure high torque, high precision and low noise.
Soakage and coerce lubrication integrate smoothly. When the hydraulic circuit is over pressed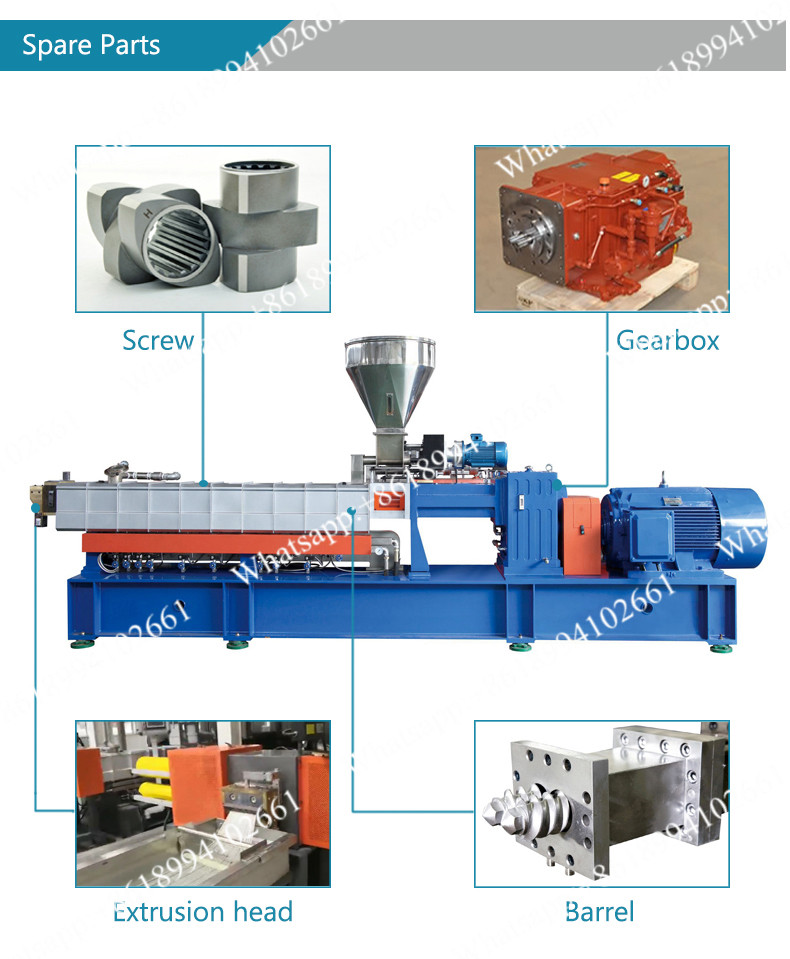 3. Mixing and Feeding system
4. The compounding system
Euro-style rectangle barrel , reflux refrigeration is optimized and disposed ,which makes temperature difference in C areas smaller
According to the material and special techinics demands, the material of cylinder can use high quality nitrided steel, corrosion proof or antifriction with corresponding process
The screw material is made of high tool steel 38CrMoALA or W6Mo5Cr4V2 by special heat-treatment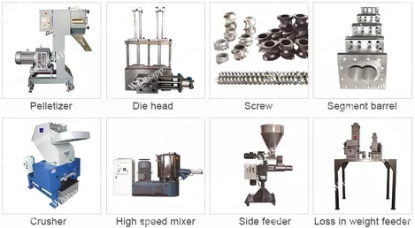 PE PP Filler Master Batch Twin Screw Extruder Machine Main features:
Very low energy-consumption
Quiet operation
can process standard-sized granules
Self-cleaning capacity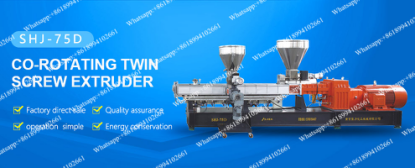 PE PP Filler Master Batch Twin Screw Extruder Machine Applications:
· (1) Biodegradable material: PE/PLA/PBAT+starch/additives etc.;
· (2) Thick masterbatch:PE, ABS, PS, PP+ pigment, additives;
· (3) Flame retardant masterbatch: PP, PA, ABS+ flame retardant, additives, etc.;
· (4) Filling modification: PE/EVA+ calcium carbonate, talc powder,TiO2,carbon black, etc.;
· (5) Enhanced modification:PP,PA,PBT, ABS, AS, PC, POM, PPS, PET +glass fiber, carbon fiber;
· (6) Blending alloy: PC+ABS, PA+ABS, CPE+ABS, PP+EPDM, PA+EPDM, PP+SBS etc.;
· (7) Cable material: PVC、PE、low smoke and halogen free etc.;
· (8) Engineering plastics: ABS、PEEK、PC etc.;
· (9) Thermoplastic elastomer:TPU、TPE etc.;
· (10) Color masterbatch: PE, ABS, PS, EVA, PET, PP+pigment, auxiliaries;
· (11) Flame retardant color mother: PP, PA, ABS, EVA, PBT+flame retardant.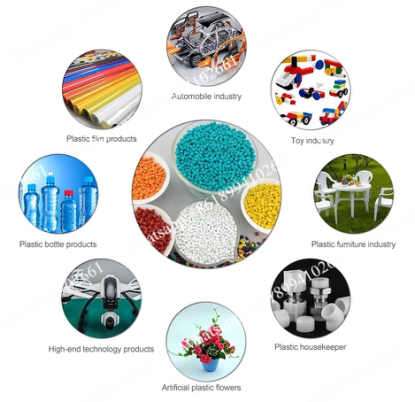 Presales service:
>Introducing in detail features and application of the products to customer
>Selecting economical and practical machine & equipment for customer
>Providing operation data of the related machine & equipment
>Providing means of trial performance for customer
Sales service:
>Recommending engineering conditions required for installation of the machine & equipment
>Communicating in time the manufacturing progress of the machine with user
>Providing assistance in technical conditions, screw combination and barrel disposition needed for product
After-sales service:
>Providing on-the-spot technical assistance in installation, commission and training
>Filling in detail customer's information
>Providing long-term maintenance service and spare parts
>Giving technical support to customer for developing new product
>Providing free maintenance for a year.