Product Description
This process is applicable for most kinds of thermoplastic products with or without filling.As a water ring formed outside the die set plate ,the die set plate does not contract cooling water,which ensures homogeneous die set plate temperature.Even at very low output,the discharge from the die set can still remain even and normal.the die set surface hot pelletizing system not only ensure saturated and good looking appearance of the material grains,it also makes the equipment structure compact and reduces equipment space as the material grains enter the cooling water ring immediately after pelletizing.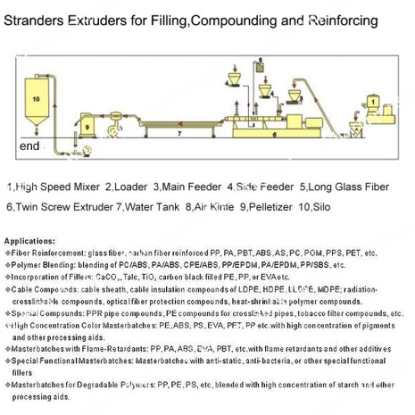 >>Gearbox
Reduction transmission: High torque gearbox
Germany HENSCHEL / ZAMBELLO
Reduction ratio: I = 2.5:1.
Output power: P1 = 200 kW
Input speed N1 = 1500 rpm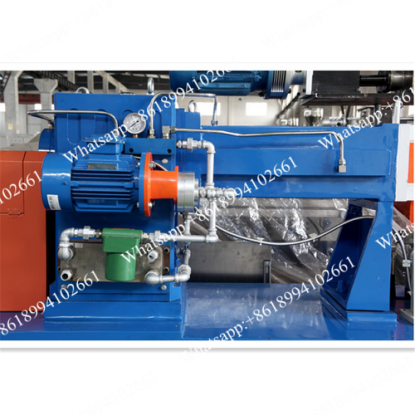 >>Screw
Screw Kneading block built on modular principle allows various L/D ratio of screw easily be changed to suit different material. Screw component made of high speed & wear-resisting steel.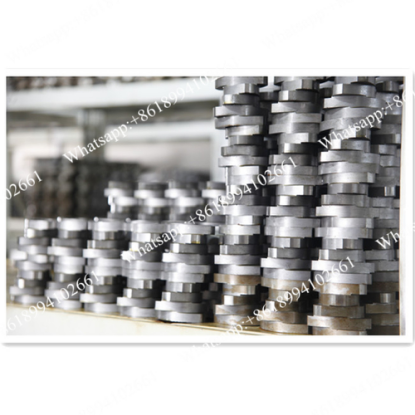 >>Barrel
By means of the replaceable screw barrel sections, theprocessing sections is devided into individual zones. The barrels are heated electrically. In addition, the barrels are provided with longitudinal bores for cooling with water. Uniform temperature distribution, namely on the circumference of the eightshaped barrel bore, is achieved by a reverse forceflow temperature
control circuit. Connections of pipes for temperature control are
in groove-tongue design to balance alternating thermal stress and avoid leakage.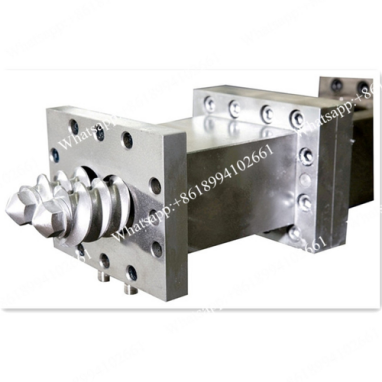 Description of Granules Extruder Machinery Plant:
Parallel twin screw extruder is a highly efficient mixing, extruding equipment. Its core section is composed of "00"type barrel and two screws, which mesh with each other. It also has driving system and control system, feeding system to form a kind of special extruding, granulation and shaping processing equipment.
The screw stem and barrel adopt building type design principle to change the length of the barrel, choose different screw stem parts to assemble the line according to material characteristics, so as to get the best work condition and max function.
Because Parallel twin screw extruder has good mixing, separating, dewatering and self-cleaning functions to avoid the materials wrapping the axle, caking in the extruding process. With the rotation of the screw, the surface of the materials continuously change, helps the volatile matter dewater, treat, and etc.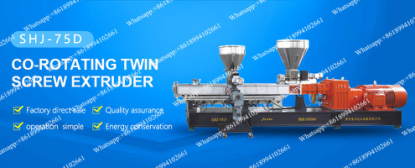 Main advantage of Granules Extruder Machinery Plant:
1.Inverted rotation double-screw stem makes the material flow in shape. This can meet the technique demands of transport, compression, mixture and refining, exhaust, plasticizing of the material.
2.The special oil heating system in the core of the screw stem can ensure the relative stability of the product quality.
3.Different models of screw stems of the machine are designed to match the relevant auxiliary machine to produce all kinds of pipe material, shaped material, grains and others.
4.Parallel twin screw extruder has advantages of advanced design, compact structure, excellent characteristics, beautiful appearance, steady operation, low energy consumption, high output and long use life.