Product Description
The underwater pelletizing system is the most widely used pelletizing method, as a professional plastic pelletizing equipment manufacturer in China, we have many years of technical experience. The underwater pelletizer system we produced has many advantages which is helpful to your pelletizing operation, such as can handle many materials, higher output and occupies less space, produce more beautiful and uniform particles, etc. Some of our underwater pelletizing system are fully automatic, which is more conveniently and efficiently. Now, we mainly have three kinds of underwater pelletizing systems, PP PE PC ABS compound plastic pellet machine production line, two stage PVC compound plastic pellet making extruder machine price, and industrial plastic color masterbatch parallel co-rotating twin screw extruder machine. You can according to your business characteristics to choose a suitable one. We guarantee the quality of underwater pelletizer, so please feel free to contact with us for details .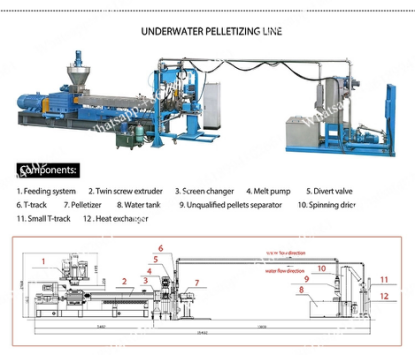 Screw barrel
The flexible modular principle is realized with screw barrel sections from the wide range of different designs possible.
Fast, intensive and uniform heating of the screw barrel sections is ensured by electrical heaters. The barrel sections are cooled by water, by means of an internal bore system, with bores arranged close to the inside barrel wall.
Barrel sections are available as:
· Closed barrel section;
· barrel section with opening for material feed or for devolatilization;
· Barrel section with top and lateral opening for top venting and the connection of a side feeder.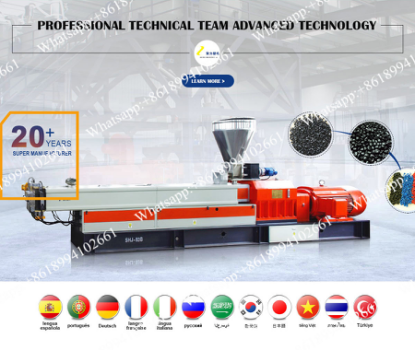 Screw shafts/screw elements
The intermeshing screws co-rotate and wipe each other with narrow chearance so that no residues are left in the screw flights and cleaning effort is thus reduced.
The screw shaft system is characterized by the following:
· Through-going solid shafts;
· Screw elements with various pitches and lengths;
· kneading blocks with various angles of stagger, numbers of kneading diskes and disk width;
· Screw head to fix the screw set axially;
· Gear teeth connection to ensure power flow between the screw shaft and screw elements.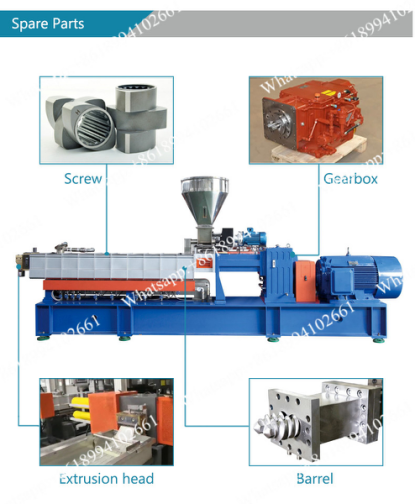 Reducing & distributing gearbox
The gearbox reduces the motor speed to the speed of the screw shafts and distributes it to the two output shafts. It distinguished itself by particularly quiet running properties, even at high speed
The gearbox consists of:
· Involute gear teeth coupling between the output shafts and screw shafts;
· Integrated thrust bearing assembly;
· Lube oil lubrication system for bearings and gear meshings for Max. 15℃ ambient temperature;
· Gearbox casing in distortion-resistant, vibration-free design;
· Bottom part of casing designed as oil pump.