Product Description
Application of twin screw extruder for the materials in details as follows:
PE/PP/ABS/PC/EVA+CaCO3/Talc/TiO2;
PC+ABS/PA+EPDM/PBT+PET/PP+NBR;
PE/PP/ABS/PC/EVA/PET;
ANTI RETARDANT MASTERBATCH;
DE-COMPOSING MASTERBATCH;
ANTISTATIC MASTERBATCH;
ANTIBACTERIAL MASTERBATCH;
PA/PP/PC/ABS/PBTPOM+GLASS FIBER;
TPR/TPE/TPV/TPU;
PE/PP/EVA/PVC/XLPE;
PA/PU/POM/PMMA/PC;
CPP/CPE/SBS/EPDM/SEBS,FPM,/BR;
COATING MATERIALS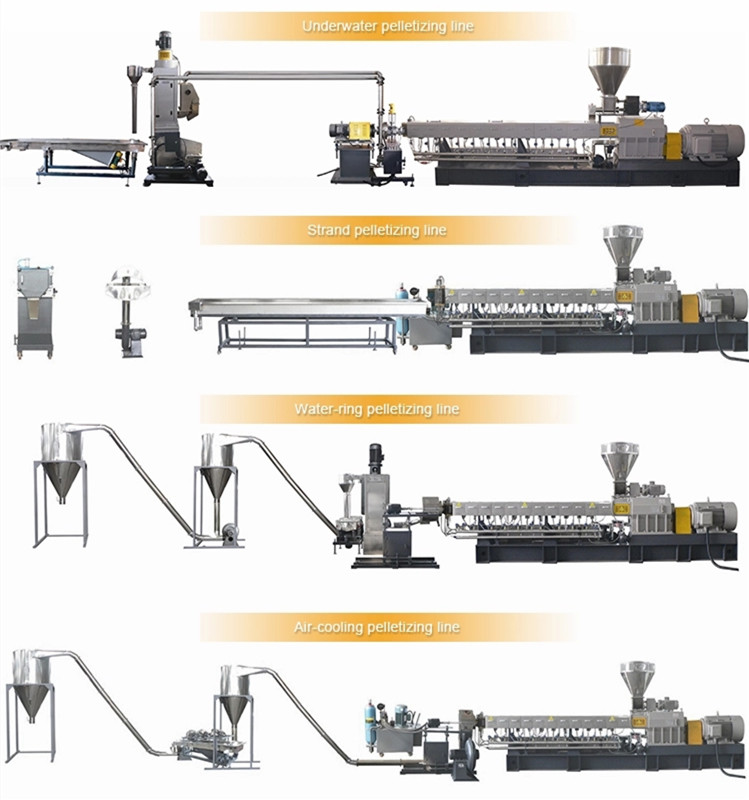 Electric control system for parallet co rotating twin screw extruder:
Common instruments control:
1) Temperature controller,inverter, breaker, contactor, SSR and
control buttons are of foreign famous brand asper customer's option.
2)The PLC control system is adopted to optimize the operations circuit.
3)Control unit like solenoid valve are of Euopean brand.
4)The whole extrusion line has driving & interlock pretect, and troulble &interlock proctec systems.
5)The simulation display is equipped, which can show the running state clearly
and dynamically.
HIMI control:
1) Adopt the improted brand such as Omron and Siements with characters of simpliefied
Circuit and safety.
2) Start/Stop of all the motors can be operated on the touch-screen.
3)The operations status of the line can be displayed dynamically.
4) Dynamic cruve display, input and save of parameters such as rmp, electric current, temp control and pressure.
5) Presenting the detailed record of warning, document retrieval, and maintenance.
6) Reserve the interface of the bus line, to realize the collections, analyze, save and print data.