Product Description
PVC PE Plastic WPC Compounding Pelletizing Granulator line
Applications:
This line is used to produce PE/PP+ wood pellets. It is a necessary equipment if we choose two step for making WPC products like WPC decking, board, profile
Recently, WPC product is very popular in international and domestic market, such as WPC door ,as well as all types WPC product.
Characteristics of parallel twin screw extruder:
1, Euro-style rectangle barrel
2, Various modes of pelletizing ,such as water-cooling strand , water-ring pelletizing, air cooling(WPC)
3, Screw elements and kneading blocks are made of 38CrMoALA or W6Mo5Cr4V2.
4,Feeding styles are of varieties: single screw, twin screw ,hollow screw, forced-feeding, side-feeding, liquid-adding system
5,PLC, PCC or electric control .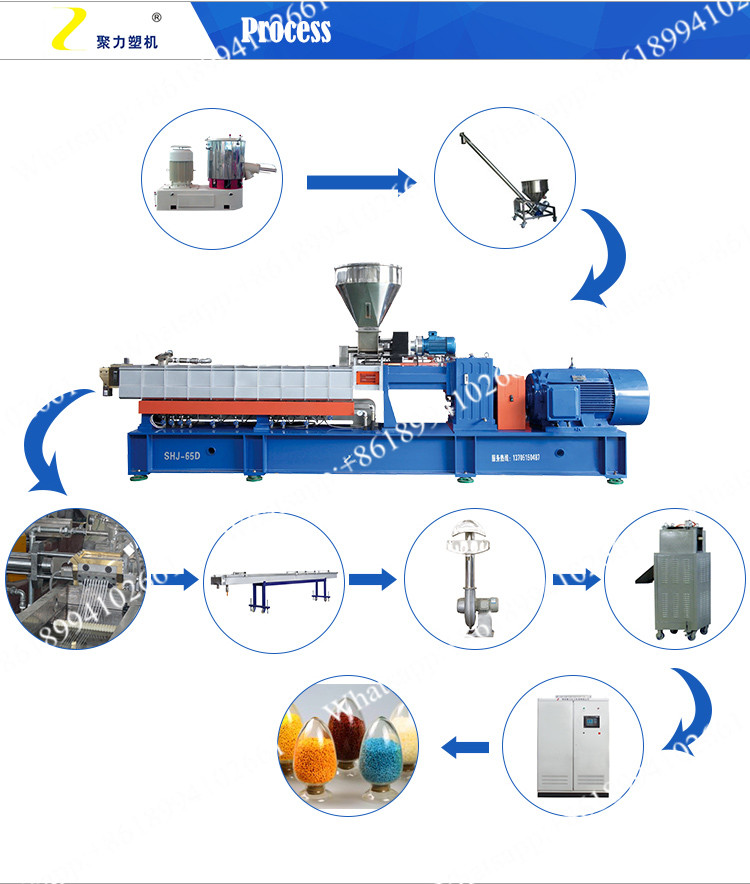 Underwater

pelletizing system

Pelletizer for the production of almost all thermoplastics, hot melt adhesives,

especially for some low hardness and high viscosity materials

Strand

pelletizing system

Pelletizer for the processing of the melted polymer to cylindrical,

dry and easy to handle plastics pellets

Water ring

pelletizing system

Pelletizer for the production of various masterbatch,

filled and reinforced products etc.

Air cooling

pelletizing system

Pelletizer for the production of temperature and shear-sensitive plastics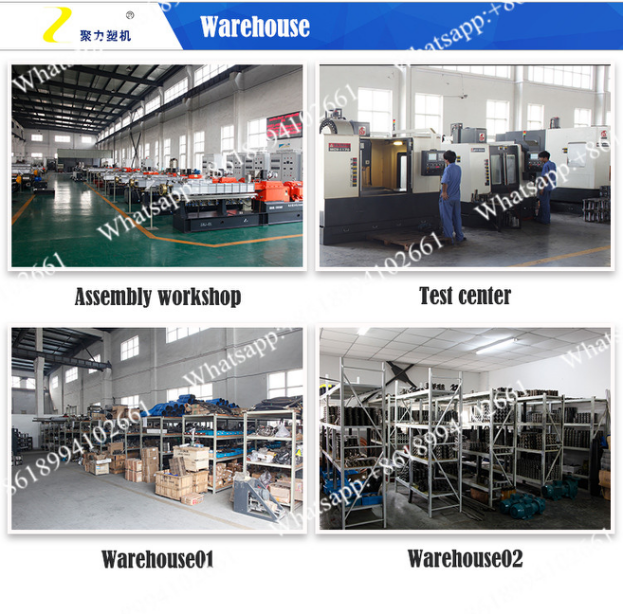 Main advantage of Granules Extruder Machinery Plant:
1.Inverted rotation double-screw stem makes the material flow in shape. This can meet the technique demands of transport, compression, mixture and refining, exhaust, plasticizing of the material.
2.The special oil heating system in the core of the screw stem can ensure the relative stability of the product quality.
3.Different models of screw stems of the machine are designed to match the relevant auxiliary machine to produce all kinds of pipe material, shaped material, grains and others.
4.Parallel twin Screw Extruder has advantages of advanced design, compact structure, excellent characteristics, beautiful appearance, steady operation, low energy consumprion, high output and long use life.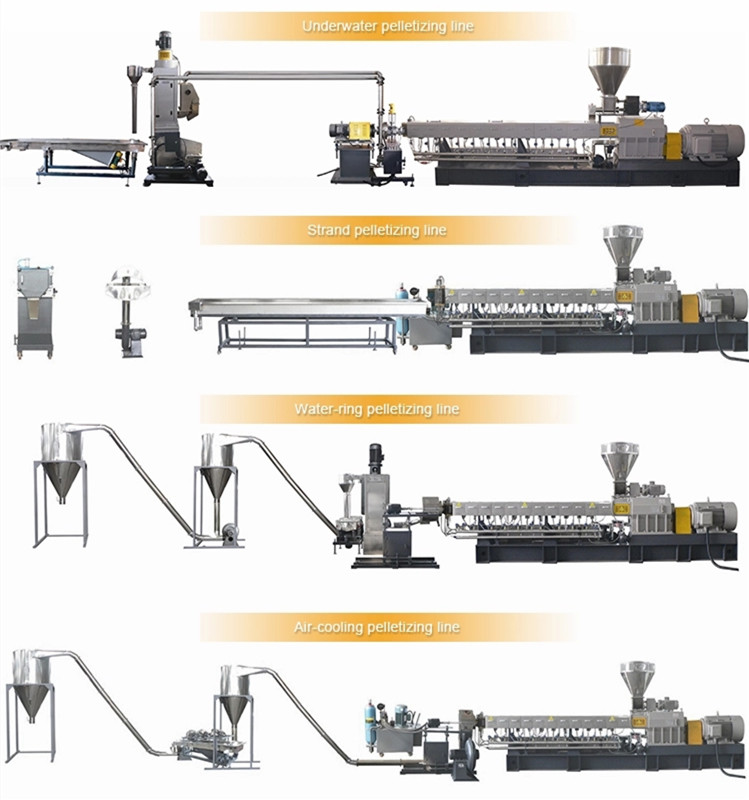 Before-sale
1. Introduce products and applications detain
2. Recommend suitable solution
3. Provide with reference in formation
4. Offer lab for test
During manufacturing
1. Provide with layout and engineering conditions
2. Inform the project processing status
3. Offer other documents
After-sale
1. Provide with installation ,commissioning and training
3. Offer spare parts
4. Provide with technical support
5. Visit customer regularly and correct information