Product Description
We have many kinds of three-screw granule extruder, if you want to know other style, please feel free to contact with us

1.Screw components designed by computer aids is kneading type, has excellent self-cleaning function, the new kneading block design effectively avoid the problems of overheating and energy consumption.
2. According to process system and formula requirements, the unit can optimize its L/D ratio, barrel structure, screw array, venting number and location, feeding method, electrical control methods etc. for rational allocation.

3. Granulation system: water-cooling strand pelletizing, air-cooling die face hot cutting, water ring die face hot cutting, Eccentric water mist hot cutting, water and underwater die face hot cutting and so on.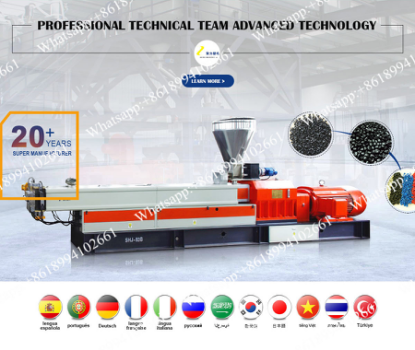 Conveying elements
The geometry of the conveying elements enables a good transport of the product through the extruder. Each conveying element is characterized by its number of flights, its length in millimeters, and its pitch. The pitch is defined as the axial length in millimeters, required for a complete thread. Conveying elements with a large pitch have a greater conveying effect than those with a small pitch. These elements are used to forward the material e.g. at feed openings, in order to avoid that pressure increases excessively at the openings.
Kneading elements
Kneading elements are mostly used for dispersive mixing, but they are also used for distributive mixing processes. They consist of kneading discs with a certain thickness. Like the conveying elements there are several parameters by which the kneading elements are characterized. These parameters include the number of flights, the staggering angle between sequential kneading discs (in degrees), direction (clockwise or counter-clockwise) and the element length (in millimeters) . Except for their mixing properties, kneading elements can also be used for devolatilizing and draining of the substance. Kneading elements with a small staggering angle are also capable to forward the material through the extruder, but therefore their axial mixing effect is less intense. In general, kneading elements with a smaller disc width provide a better distributive mixing than those with thicker discs, which provide a better dispersive mixing.
Backward-pumping elements
Backward-pumping elements give a good distributive mixing and as the name implies they transport the product upstream instead of downstream. They are used for performing a more longitudinal homogenization.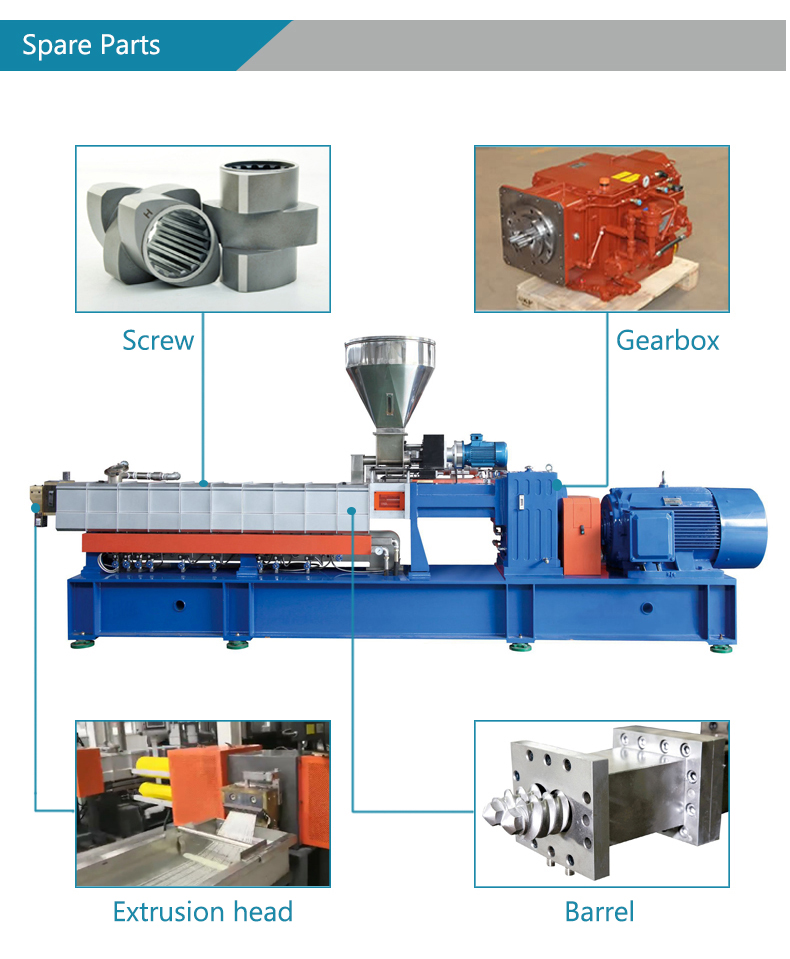 Presales service:
>Introducing in detail features and application of the products to customer
>Selecting economical and practical machine & equipment for customer
>Providing operation data of the related machine & equipment
>Providing means of trial performance for customer
Sales service:
>Recommending engineering conditions required for installation of the machine & equipment
>Communicating in time the manufacturing progress of the machine with user
>Providing assistance in technical conditions, screw combination and barrel disposition needed for product
After-sales service:
>Providing on-the-spot technical assistance in installation, commission and training
>Filling in detail customer's information
>Providing long-term maintenance service and spare parts
>Giving technical support to customer for developing new product
>Providing free maintenance for a year.