Product Description
PP PE Granules Machine Features:
1) Screw, barrel: the structure of building block, good interchangeability, according to different processing technology of the material, the usage with arbitrary combination; nitriding steel, double metal materials, wear resistance, corrosion resistance, the extension of service life.
2) Thread components: nitriding steel, high speed steel, computer aided design, combination with unique processing technology, to guarantee the gap of the normal tooth surface in thread working segments, good selfcleaning; specially designed connection mode; Transmission device to enhance the intensity of the thread components, shaft core.
3) Feeding system: quantitative feeding system with double screw with mixer, uniform and accurate feeding, to avoid the blocking of the material.
4) Electrical control system: imported electrical components; control panel with the human-computer interface; module control of each part (can also be configured according to users' requirements), clear structure, safety interlock device, to reflect running status of the equipment accurately and operate conveniently.
5) Heating system: heating device with cast aluminum, cast copper and ceramic resistor, well-distributed heating, temperature control of high precision.
6) Temperature control system: temperature controlled table with double channel, sensitive respondence, convenient adjustment, temperature control of high precision.
7) Cooling system: combination of water cooling, oil cooling, and air cooling, quick, well-distributed and effective.
8) Auxiliary machine: according to different requirements of process, to equip cold bracing granulator , traction granulator, and hot cutting of air-cooled face water ring.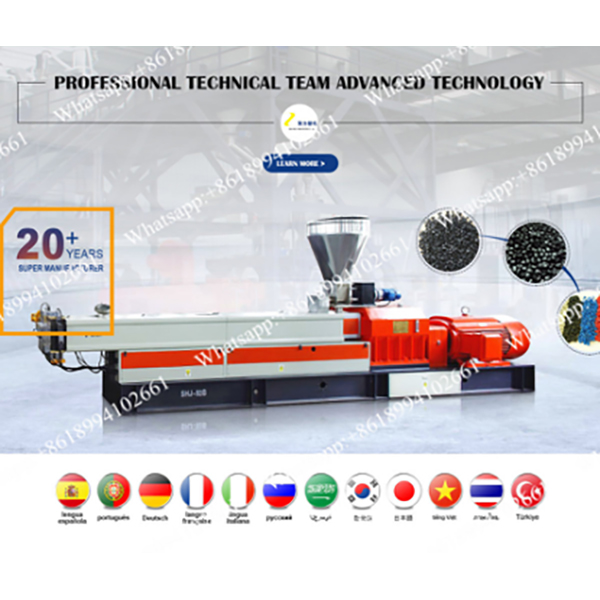 Process

Representative materials

Mixing nature-changing

PE,PP,PS+SBS,PA+EPDM,PP+NBR,EVA +Silicon rubber, etc.

PE,PA,PC,CPE+ABS(alloy),PBT+PET,PP+ PE etc.

Filling nature-changing

PE,PP,EVA, etc.+ Calcium carbonate, talcum powder, titanic powder

ABS,PC,PS, etc.+ aluminum hydroxide, magnesium hydroxide, antimony oxide.

PP,PA,ABS +ferrous powder, sulphuric powder ceramic powder

Functional machine pellets

PP,PA,ABS,PBT, etc+ anti-burning agent and other auxiliary agents: combustion-supporting machine pellets

PE,PP,PS, etc+ starch: de-composing machine pellets

PE+ fog-preventing dipper, stabilizer: dual-prevention machine pellets

PE,EVA=ABS etc+ carbon black: black machine pellets

Colored machine pellets

PE,PP,ABS,AS,PA,EVA,PET +pigment and auxiliary

Intensified glass fibers and carbon fibers

PP,PBT,ABS,AS,PA,PC,POM,PPS,PET etc.+ long fibers, small fibers, carbon fibers, crystals and so on, etc.

Various cables

HDPE,LDPE,LLDPE,MDPE,EVA,PVC,PP, etc. insulating cables,coatings,

PE peroxide silicon alkyl crossing cables: radialization crossing cables

Special materials

EVA heat-melting glue, polyurethane, fluorine rubber, fluorine plastics, PP cigarette filtering material and TPR sole material

Reaction extruding

Poly-amide condensate, poly-amide melting polymerization, poly-amide polythene-adding, poly-carbonate condensate, etc.

Exhausting and volatilization

Polystyrene oxide, high-absorbing resin, chlorine sulphur polyethylene

Powder paint

Polyester, ring oxide, lactide, polyurethane, acrylate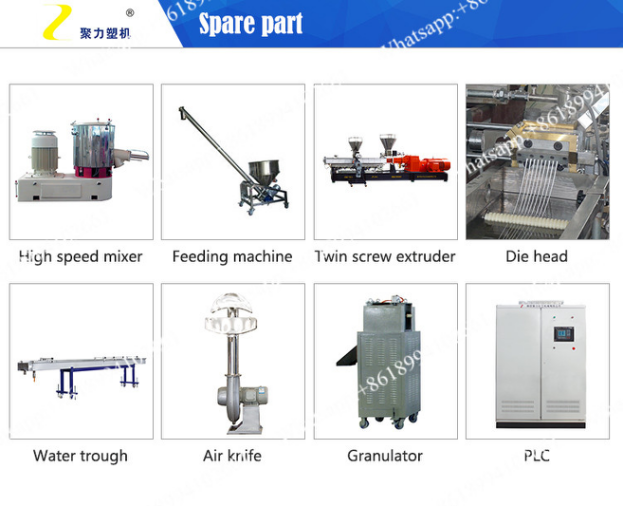 SHJ Series Co-rotating Parallel Twin-screw Extruder Features
1. Screw components designed by computer aids is kneading type, has excellent self-cleaning function, the new kneading block design effectively avoid the problems of overheating and energy consumption.
2. According to process system and formula requirements, the unit can optimize its L/D ratio, barrel structure, screw array, venting number and location, feeding method, electrical control methods etc. for rational allocation.
3. Granulation system: water-cooling strand pelletizing, air-cooling die face hot cutting, water ring die face hot cutting, Eccentric water mist hot cutting, water and underwater die face hot cutting and so on.
4. Application: Filling Modification, glass fiber (carbon fiber) enhance various kinds of master batch, rubber and plastics compounding, plastic alloys, functional master batch, Various kinds of electric cable material, reactive extrusion. Devolatilization process, powder coating and so on..