Product Description
Plastic PET Flakes Pelletizing Line Description :
This pet flakes pelletizing line uses SHJ series parallel twin screw extruder, is suitable for producing PET granules from clean PET flakes.This machine is composed by SHJ parallel twin screw extruder, die, hydraulic screen exchanger,plastic strand die head, water cooling tank, cutter, silo.
This machine is mainly used in PET, PVC and other high viscosity materials. with good performance, high output, less power consumption cost per kilogram, and easy operation.
The machine can reduce less loss of the viscosity of the raw material.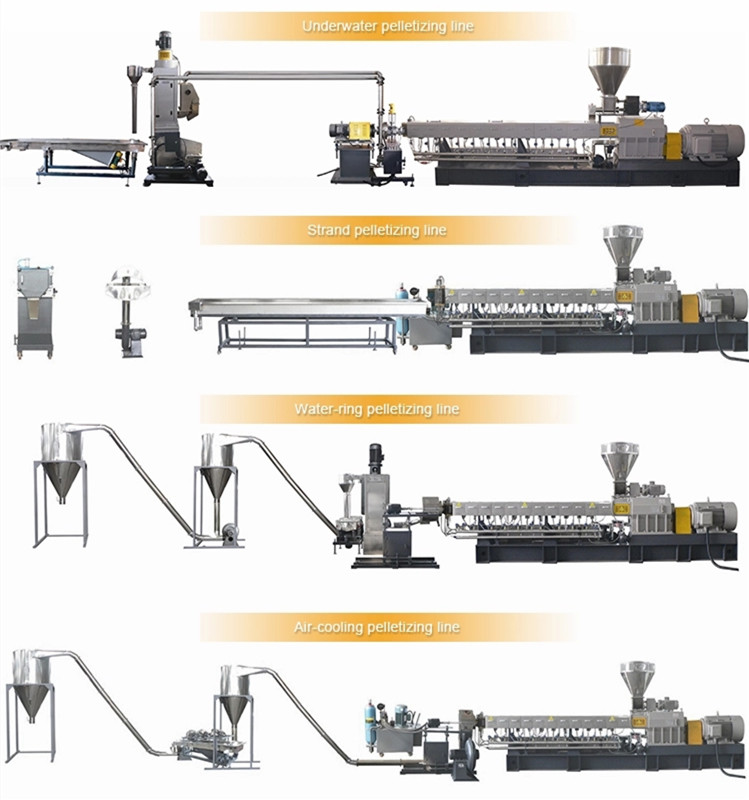 Plastic PET Flakes Pelletizing Line System Configuration:
Processing capacity is 100-800kg/h
The whole include
1.Feeding Machine.
2.Extruder:38CrMoAlA with nitriding processing
3.Mould:40Cr with nitriding processing.
4.Water Channel
5.Winds drying machine
6.Pelletizer machine
7.Hopper
Plastic PET Flakes Pelletizing Line Advantages :
1. Increasing the operation variables and realizing the process because of two-stage machine.
2. High effective and production capacity.
3. Good at process heat-sensitive material and devolatilization operation, Such as PVC, XLPE.
4. Zero halogen cable, shield material, carbon black etc.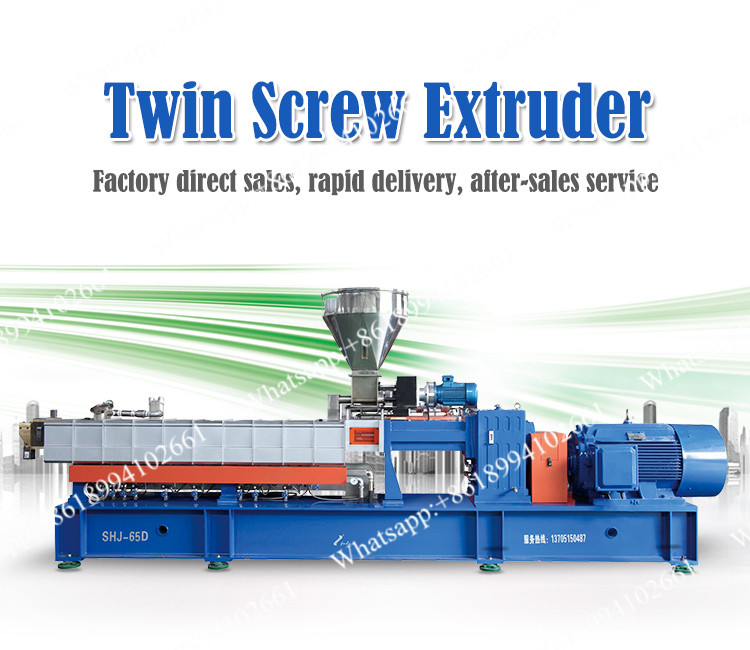 Main advantage of Granules Extruder Machinery Plant:
1.Inverted rotation double-screw stem makes the material flow in shape. This can meet the technique demands of transport, compression, mixture and refining, exhaust, plasticizing of the material.
2.The special oil heating system in the core of the screw stem can ensure the relative stability of the product quality.
3.Different models of screw stems of the machine are designed to match the relevant auxiliary machine to produce all kinds of pipe material, shaped material, grains and others.
4.Parallel twin Screw Extruder has advantages of advanced design, compact structure, excellent characteristics, beautiful appearance, steady operation, low energy consumprion, high output and long use life.