Product Description
Plastic alloy:
Plastic alloys are high-performance, functional, and specialized new materials obtained by physical blending or chemical grafting. Plastic alloy products can be widely used in automotive, electronics, precision instruments, office equipment, packaging materials, building materials and other fields. It can improve or improve the performance of existing plastics and reduce costs. It has become one of the most active varieties in the plastics industry and has grown very rapidly.
Classification:
General-purpose plastic alloys, such as pvc (polyvinyl chloride), PE (polyethylene), PP (polypropylene), PS (polystyrene) alloys, although still widely used, but because their production technology is widely mastered, In foreign countries, most of the major companies supply a large number of engineering plastic alloys with higher added value.
Engineering plastic alloys generally refer to blends of engineering plastics (resins), mainly including blending systems based on engineering plastics such as PC, PBT, PA, POM (polyoxymethylene), PPO, PTFE (polytetrafluoroethylene), and ABS resin modified material.
PC/ABS resin, polycarbonate and acrylonitrile-butadiene-styrene copolymer and mixture, thermoplastic plastic made of polycarbonate (Polycarbonate) and polyacrylonitrile (ABS) alloy, combining two kinds The excellent properties of the material, the formability of ABS material and the mechanical properties of PC, impact strength and temperature resistance, UV resistance, etc., can be widely used in automotive interior parts, business machines, communication equipment, home appliances and lighting equipment.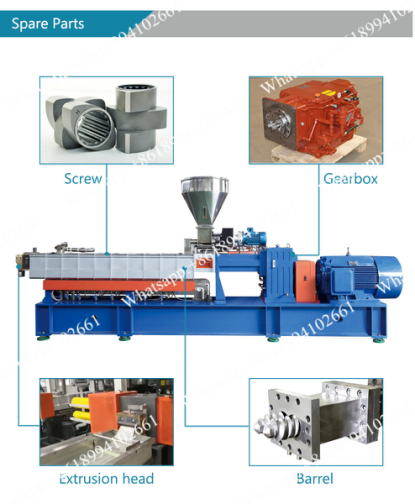 Co-rotating Parallel Twin Screw Extruder Features
1. Screw components designed by computer aids is kneading type, has excellent self-cleaning function, the new kneading block design effectively avoid the problems of overheating and energy consumption.
2. According to process system and formula requirements, the unit can optimize its L/D ratio, barrel structure, screw array, venting number and location, feeding method, electrical control methods etc. for rational allocation.
3. Granulation system: water-cooling strand pelletizing, air-cooling die face hot cutting, water ring die face hot cutting, Eccentric water mist hot cutting, water and underwater die face hot cutting and so on.
4. Application: Filling Modification, glass fiber (carbon fiber) enhance various kinds of master batch, rubber and plastics compounding, plastic alloys, functional master batch, Various kinds of electric cable material, reactive extrusion. Devolatilization process, powder coating and so on.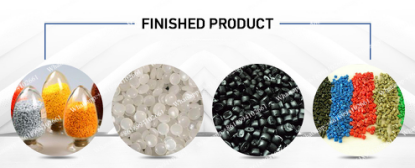 FAQ
Q1: Are you a factory or trading company ? How is you factory extrusion experience?
A: We are factory in Nanjing , 20 years experience on extrusion.Leading supplier in Nanjing city.
Q2:Where is your factory located? How can I visit there?
A : Our factory is based in 77 Tangtong Rd,Hushu,Jiangning District Nanjing , Jiangsu Province, China,
1) You can fly to Nanjing Lukou Airport or you can fly to Shanghai then take high-speed train to Nanjing South Railway Station.
2) We will arrange the pick up in Nanjing Lukou airport or South Railway Station
Q3:What can you provide for after sale service?
A:We can send engineers to your factory for installation and training if customers' required
Q4:If we have very special request for the production line,could you help me to do the design?
A:Experienced mechanical designer customized-design provided.
Q5:Could you afford technician team to guide ours installation and commissioning?
A:Experience engineer oversea installation service provided.
Q6: Why choose you ?
A: 1) Quick response. Once we got the inquiries from you, we will reply you within 12hours.
2) Promising leading time. To guarantee the quality, the machine will be finished within max 20days.
3) Before leaving factory, all the machine will be fully tested.
4) Customized package(Wooden) will ensure a safety shipping.