Product Description
The machines are designed by using the "toy bricks" principle, the screw configuration, barrel setup, L/D or mode of feeding and venting, screen changing, way of granulating, and the control mode can be optimally adjusted according to different material properties and requirements in consideration of the versatility in each general applications.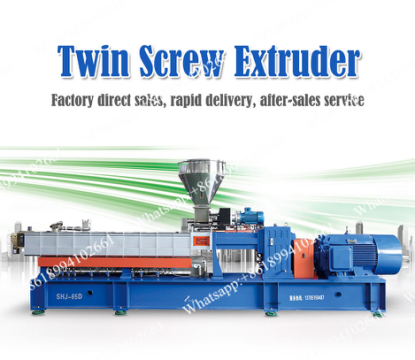 Functions and Features :
1. Integrate feeding material, weighting, bag clipping, bag packing, conveying and sealing.
2.Automatic pack reduction and automatic calibration during the weighing each time.
3.Have functions such as long-range controlling and trouble diagnosing, repairing , ultra difference alarms and so on.
4.Adopt gravity feeding method internally inside the package to ensure high metering accuracy and fast packingspeed.
5.Full enclosure design, negative pressure operation inside the unit, without dust escape, with clean environment.
6.Weight meter adopts aluminum alloy enclosure, with high anti-interference performance and simple operation.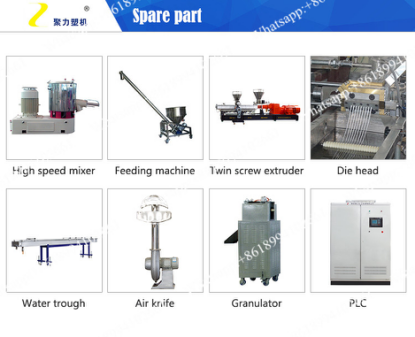 Representative Materials of Co-rotating Twin screw Extruder (Reference Values)
Process

Representative materials

Mixing nature-changing

PE,PP,PS+SBS,PA+EPDM,PP+NBR,EVA +Silicon rubber, etc.

PE,PA,PC,CPE+ABS(alloy),PBT+PET,PP+ PE etc.

Filling nature-changing

PE,PP,EVA, etc.+ Calcium carbonate, talcum powder, titanic powder

ABS,PC,PS, etc.+ aluminum hydroxide, magnesium hydroxide, antimony oxide.

PP,PA,ABS +ferrous powder, sulphuric powder ceramic powder

Functional machine pellets

PP,PA,ABS,PBT, etc+ anti-burning agent and other auxiliary agents: combustion-supporting machine pellets

PE,PP,PS, etc+ starch: de-composing machine pellets

PE+ fog-preventing dipper, stabilizer: dual-prevention machine pellets

PE,EVA=ABS etc+ carbon black: black machine pellets

Colored machine pellets

PE,PP,ABS,AS,PA,EVA,PET +pigment and auxiliary

Intensified glass fibers and carbon fibers

PP,PBT,ABS,AS,PA,PC,POM,PPS,PET etc.+ long fibers, small fibers, carbon fibers, crystals and so on, etc.

Various cables

HDPE,LDPE,LLDPE,MDPE,EVA,PVC,PP, etc. insulating cables,coatings,

PE peroxide silicon alkyl crossing cables: radialization crossing cables

Special materials

EVA heat-melting glue, polyurethane, fluorine rubber, fluorine plastics, PP cigarette filtering material and TPR sole material

Reaction extruding

Poly-amide condensate, poly-amide melting polymerization, poly-amide polythene-adding, poly-carbonate condensate, etc.

Exhausting and volatilization

Polystyrene oxide, high-absorbing resin, chlorine sulphur polyethylene

Powder paint

Polyester, ring oxide, lactide, polyurethane, acrylate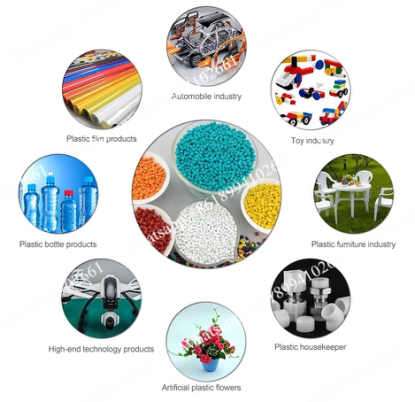 Pre-sales service:
• Introducing in detail features and application of the products to customer
• Selecting rconomical and practical machine&equipment for customer
• Providing operation data of the related machine&equipment
• Providing means of trial performance for customer
Sales service:
• Recommending engineering conditions required for installation of the machine&equipment
• Communication in time the manufacturing progress of the machine with user
• Providing assistance in technical conditions,screw combination and barrel disposition needed for product
After-sales service:
• Providing on-the-spot technical assistance in installation,commissioning and training
• Filling in detail customer's information
• Providing long-term maintenance service and spare parts
• Giving technical support to customer for developing new product
• Providing free maintenance for a year