Product Description
The function and characteristic of Twin-screw extruder: for plasticizing, pigmentation, filling and modification, reinforced, recycle granulating etc.
The main machine adopted toy bricks principle designing, the screw configuration, barrel structure precise designed by computer with good self cleaning and interchangeableness.
New style torque distribution part adopted parallel tri-axial structure with nice safety, high precise gear surface; key bearing adopted imported product, the lubrication system is interlocked, safe and reliable long working life.
The screw element and core axle is connected by involute spline structure which bearing large workload, and assembling easily according to your wishes, also to suit different requirement for high polymer, new material and new craft..
Multiple dosing feeding systems to feed material according to different feeding forms such as single screw feeding, twin-screw feeding, hollow spring screw feeding, reinforced feeding, side feeding etc.
Excellent vacuum degassing system can exhaust the moisture out from the material availably. By means of venting the vacuum apparatus discharge the non-condensing gas and moisture to raise the product quality.
According to different production craft request to choice different cooling system (water cooling, air cooling, oil cooling).
Varied cutting system: water strand pelletizer; air-cooling strand pelletizer, water-ring modular face pelletizer, eccentric fog-jetting pelletizer, under water pelletizer etc. we will recommend you to adopt which based on your request.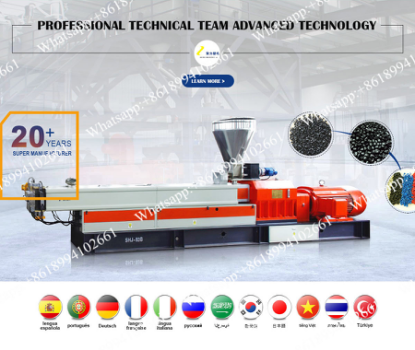 1.Techincal data:
Type

Series

D(mm)

L/D

n(r/min)

P(kw)

T(N.m)

T/A³

Q(kg/h)

SHJ-65

A

62.4

32-60

500

75

680

4.8

200~355

B

600

90

680

4.8

255~400

C

600

110

830

5.9

300~550

D

600

160

1200

8.5

500~850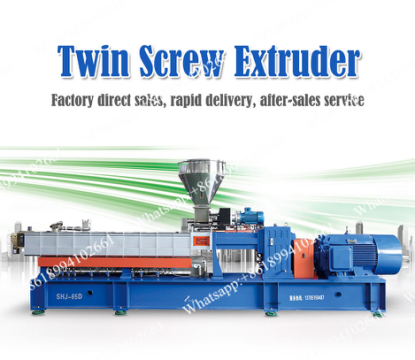 1.Strand Extruders for Filling/Compounding and Reinforcing
Fibre reiforcement : glass fibre, carbon fibre reinforced PP, PA, PBT, ABS, PC, POM, PPS, PET, etc.
Fibre reiforcement : glass fibre, carbon fibre reinforced PP, PA, PBT, ABS, PC, POM, PPS, PET, etc.
Incorporation of Fillers: Caco3, Talc, TiO2, carbon black,filled PE, PP, or EVA, etc.
Cable Compounds: cable sheath, cable insulation compounds of LDPE, HDPE, LLDPE, MDPE; radiation-crosslinkable compounds, optical fibre protection compounds, heat-shrinkable polymer compounds.
Special Compounds: PPR pipe compounds, PE compounds for crosslinked pipes, tobacco filter compounds, etc.
High Concentration Color Masterbatches: PE, ABS, PS, EVA, PP,etc. with high concentration of pigments and other processing aids.
Masterbatches with Flame-retardants: PE, ABS, PS, EVA, PET, PP, etc. with flame retardants and other additives.
The twin screw strand extruder also fit for PET bottles/ flakes recycling.
2. Water Ring Extruders for Filiing/Compounding/Modificating
PE, EVA etc. Filled with CACO3,talc,TIO2,carbon black etc.
Cable sheath, cable insulation compoundes of LDPE,HDPE,LLDPE,or MDPE;
Radiation-crosslinkable, heat-shrinkable cable compounds;
PPR pipe compounds, PE compounds for crosslinked pipes;
TPR, TPU thermoplastic elastomers; EVA and hot-melt adhesives;
Color concentrations of PE,ABS, PS,EVA,etc;
Flame retardant master batches of ABS,PS,EVA,etc;
Master batches with PE,PP,PS,etc carriers for degradation applications.
3.Air-cooling Extruders
Enforcing modification:PE,EVA etc.+CaCo3,Talc, TiO2,Carbon black.
Degradable master batch: PE,PS etc.+starch,additive etc.
Anti-flame master batch: PE, EVA etc.+Sb2O3, Mg(OH)2,AI2(OH)3 etc.
4. Underwater Extruders
1.The main material is PE+CaCO3
2.The metering feeders are equipped with single screw, twin screw, hollow screw, forced feeding ,side-feeding, etc
3.Different requirementsof feeding, such as power, pellet, lump and luqid material.