Product Description
Thermoplastic elastomer TPE wire and cable applications:
1. Wire and cable are traditionally mostly used as insulation and coating materials, but due to environmental problems caused by PVC materials, the industry has gradually replaced, replaced by thermoplastic elastomer (TPE). New materials.
2. Kitchen supplies and sanitary ware TPE application: kitchen and toilet filled with grease and humid environment just take advantage of TPE materials, the kitchen handle with TPE is more slippery, more comfortable, the bag with anti-slip ring is more secure on the table, use It is safer for kitchen knives and scissors, and more powerful when using a slippery cleaning brush. Make cooking and cleaning home more comfortable and safe.
3. TPE application of baby products: parents care for children is even more meticulous, the safety and comfort of baby products and toys are demanding. Therefore, baby products have higher requirements on the safety and hygiene level of materials than traditional toys. The soft and high toughness of TPE and the environmentally friendly and non-toxic properties meet the strict requirements of the products.
4. TPE tool handle application: TPE is applied to the tool handle by double material co-molding method, providing anti-slip and shock absorption function, soft and warm comfort, and improving product durability and added value. TPE's oil-proof and soft-slip properties make electric tools such as electric drills more reliable in oily and dusty working environments
5. TPE sports equipment application: TPE has excellent weather resistance and chemical resistance, making it more excellent performance in outdoor sports equipment than traditional rubber. Water supplies such as flippers, goggles, and flying saucers can maintain good softness and resilience after seawater immersion and sun exposure.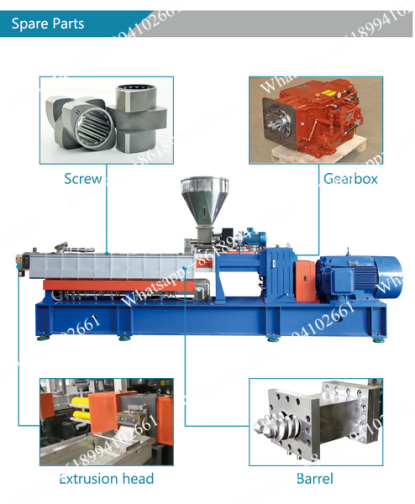 Co-rotating Parallel Twin Screw Extruder Features
1. Screw components designed by computer aids is kneading type, has excellent self-cleaning function, the new kneading block design effectively avoid the problems of overheating and energy consumption.
2. According to process system and formula requirements, the unit can optimize its L/D ratio, barrel structure, screw array, venting number and location, feeding method, electrical control methods etc. for rational allocation.
3. Granulation system: water-cooling strand pelletizing, air-cooling die face hot cutting, water ring die face hot cutting, Eccentric water mist hot cutting, water and underwater die face hot cutting and so on.
4. Application: Filling Modification, glass fiber (carbon fiber) enhance various kinds of master batch, rubber and plastics compounding, plastic alloys, functional master batch, Various kinds of electric cable material, reactive extrusion. Devolatilization process, powder coating and so on.
Pre-sales service:
• Introducing in detail features and application of the products to customer
• Selecting rconomical and practical machine&equipment for customer
• Providing operation data of the related machine&equipment
• Providing means of trial performance for customer
Sales service:
• Recommending engineering conditions required for installation of the machine&equipment
• Communication in time the manufacturing progress of the machine with user
• Providing assistance in technical conditions,screw combination and barrel disposition needed for product
After-sales service:
• Providing on-the-spot technical assistance in installation,commissioning and training
• Filling in detail customer's information
• Providing long-term maintenance service and spare parts
• Giving technical support to customer for developing new product
• Providing free maintenance for a year