Product Description
Product Application
1. Small scale production, thickness: 0.1-3mm, width < 250mm;
2. Research and development of new materials from scientific research institutions and enterprise laboratories;
3. According to the specific needs of users, a variety of optional configurations can be adopted.
4. Single component material can be processed with single screw extruder .
5. When the double screw extruder is configured, it can be used for the blending, modification of various materials, and the direct extrusion of the strip material.
6. Automatic rewinding
1.The gearbox
· New-style project of parallel three-axises driving makes the convey axis, convey chain, decelerate and the torque assignment get together, which keep it compact, and the key bearings are imported.
·The select material of drive components of twin screw extruder machine is dainty, including super intension alloy cementiteing steel, cementiting and quenching, gear grinding technics, strengthening of tooth face. So they can ensure high torque, high precision and low noise.
· Soakage and coerce lubrication integrate smoothly. When the hydraulic circuit is over pressed, it alarms.
2.The feeding system
·The metering feeders of PP/PE twin screw extruder is equipped with single screw, twin screw, hollow screw, forced-feeding, side feeding, liquid-adding system,etc.

3.Screw
·The screw elements and then kneading blocks are designed accurately, by precise processed, agile combination, with interchangeability, which can fulfill efficient self-cleaning, transmission, compounding, pressure-forming. Good combination and design, can make water cut mini twin screw extruders have a multiplier effect.
· The screw material is made of high tool steel 38CrMoALA or W6Mo5Cr4V2 by special heat-treament.
4.The barrel
· Eurostyle rectangle barrel, reflux refrigeration is optimized and disposed, which makes temperature difference in C areas smaller.
· According to the material and special techinics demands, the material of cylinder can use high quality nitrided steel, corrosion proof or antifriction with corresponding process.
5.The heater
·Innovated design of heater tightened style insures high efficiency of heat transfer and high longervity of heater, in order to ensure that PP/PE twin screw extruder can work better for you.
6.Pelletizing
· Various modes of pelletizing, such as water-cooling strand, air-cooling pelletizing, water-ring pelletizing, under water pelletizing, etc.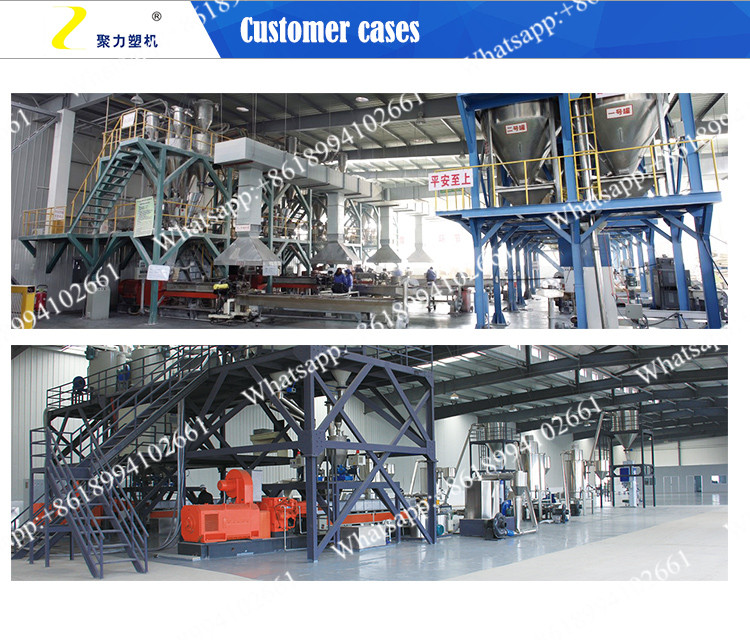 Pre-sales service:
• Introducing in detail features and application of the products to customer
• Selecting rconomical and practical machine&equipment for customer
• Providing operation data of the related machine&equipment
• Providing means of trial performance for customer
Sales service:
• Recommending engineering conditions required for installation of the machine&equipment
• Communication in time the manufacturing progress of the machine with user
• Providing assistance in technical conditions,screw combination and barrel disposition needed for product
After-sales service:
• Providing on-the-spot technical assistance in installation,commissioning and training
• Filling in detail customer's information
• Providing long-term maintenance service and spare parts
• Giving technical support to customer for developing new product
• Providing free maintenance for a year