Product Description
Single screw and double screw extruder Process flow:
Conveying feeding→ Metal detector →Film Agglomerator /Compactor →1# Degassing screw extruder →1# Hydraulic filer exchanger→2# screw extruder →2# Hydraulic filer exchanger→ Mould head →water ring cutting →Dewatering machine→ Air dryer Blowing system→ Storage hopper→ Finished product packing.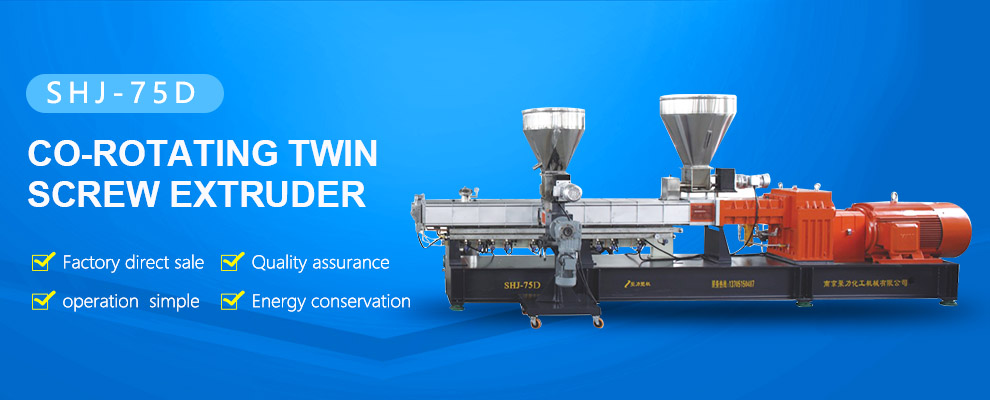 1.Strand Extruders for Filling/Compounding and Reinforcing
Fibre reiforcement : glass fibre, carbon fibre reinforced PP, PA, PBT, ABS, PC, POM, PPS, PET, etc.
Fibre reiforcement : glass fibre, carbon fibre reinforced PP, PA, PBT, ABS, PC, POM, PPS, PET, etc.
Incorporation of Fillers: Caco3, Talc, TiO2, carbon black,filled PE, PP, or EVA, etc.
Cable Compounds: cable sheath, cable insulation compounds of LDPE, HDPE, LLDPE, MDPE; radiation-crosslinkable compounds, optical fibre protection compounds, heat-shrinkable polymer compounds.
Special Compounds: PPR pipe compounds, PE compounds for crosslinked pipes, tobacco filter compounds, etc.
High Concentration Color Masterbatches: PE, ABS, PS, EVA, PP,etc. with high concentration of pigments and other processing aids.
Masterbatches with Flame-retardants: PE, ABS, PS, EVA, PET, PP, etc. with flame retardants and other additives.
The twin screw strand extruder also fit for PET bottles/ flakes recycling.
2. Water Ring Extruders for Filiing/Compounding/Modificating
PE, EVA etc. Filled with CACO3,talc,TIO2,carbon black etc.
Cable sheath, cable insulation compoundes of LDPE,HDPE,LLDPE,or MDPE;
Radiation-crosslinkable, heat-shrinkable cable compounds;
TPR, TPU thermoplastic elastomers; EVA and hot-melt adhesives;
Color concentrations of PE,ABS, PS,EVA,etc;
Flame retardant master batches of ABS,PS,EVA,etc;
Master batches with PE,PP,PS,etc carriers for degradation applications.
3.Air-cooling Extruders
Enforcing modification:PE,EVA etc.+CaCo3,Talc, TiO2,Carbon black.
Degradable master batch: PE,PS etc.+starch,additive etc.
Anti-flame master batch: PE, EVA etc.+Sb2O3, Mg(OH)2,AI2(OH)3 etc.
4. Underwater Extruders
1.The main material is PE+CaCO3
2.The metering feeders are equipped with single screw, twin screw, hollow screw, forced feeding ,side-feeding, etc
3.Different requirementsof feeding, such as power, pellet, lump and luqid material.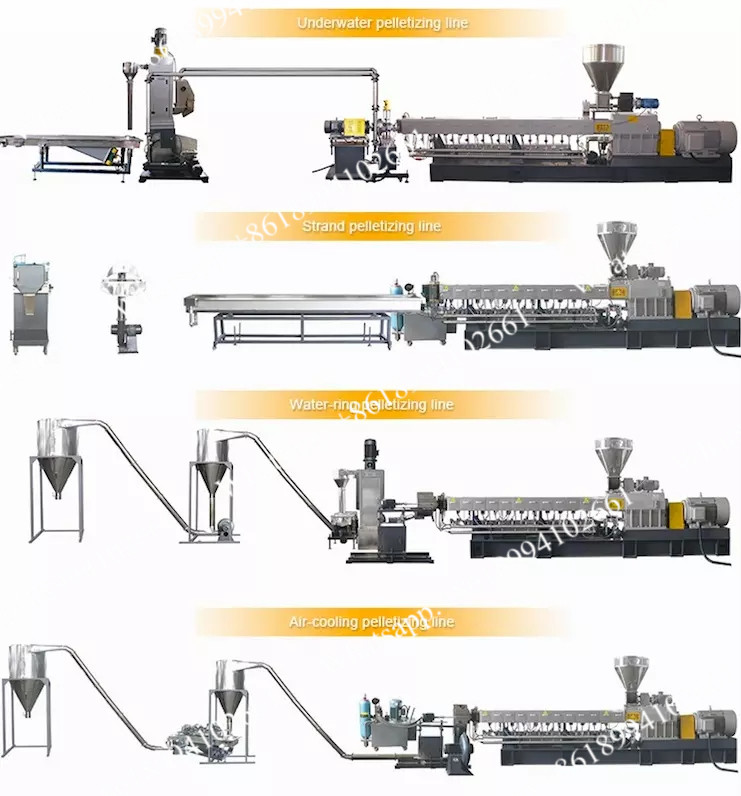 Pre-sales service:
• Introducing in detail features and application of the products to customer
• Selecting rconomical and practical machine&equipment for customer
• Providing operation data of the related machine&equipment
• Providing means of trial performance for customer
Sales service:
• Recommending engineering conditions required for installation of the machine&equipment
• Communication in time the manufacturing progress of the machine with user
• Providing assistance in technical conditions,screw combination and barrel disposition needed for product
After-sales service:
• Providing on-the-spot technical assistance in installation,commissioning and training
• Filling in detail customer's information
• Providing long-term maintenance service and spare parts