Product Description
Background introduction:
This kind of machine is used to produce PVA water soluble material.
Because the government in many countries like India, Tunisia etc. begins to conduct environment protection, the market of the PVA Water soluble material and the biodegradable material are quite hot now.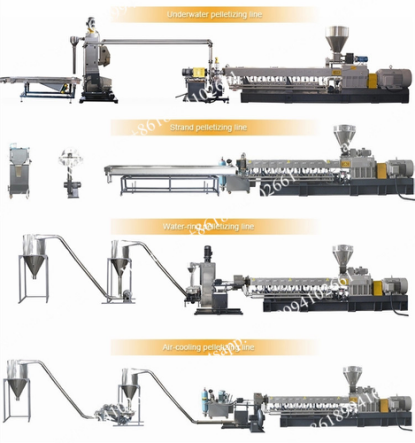 Why choose us
1.Energy-saving:
All main motors of machine use Variable Frequency Motor(AC), eliminating three-phase asynchronous motors;
Variable Frequency Motor:
(1) Speed regulation is easy and energy saving.
(2) AC motor has simple structure, small volume, small inertia, low cost, easy maintenance and durability.
(3) It can expand output and achieve high speed and high voltage operation.
(4) Soft start and fast brake can be achieved.
(5) No spark, explosion-proof, and strong environmental adaptability.
2.High output:
Take "PP" material as an example, the PP material is tested on the customer's site, our machines' actual production output is 10%-20% higher than the same model in the market;
3.Simple installation:
The equipment is easy to install, only need to be connected to the inlet and outlet water, which can save 2 days of installation time;
4.Advanced design:
(1)All electrical components are imported famous brands, like German "SIEMENS", France "SCHNEIDER", United States "CEME", Japan "ORMON" "TOSHIBA" "FUJI" etc.;
(2)The industry's first advanced dust cover design, beautiful appearance and simple maintenance;
(3)Use a thicker and more heat-resistant heater to ensure the heating effect of the barrel and the service life of the heater;
(4)The water cooling system of the barrel adopts stainless steel pipes and valves;
5.Others:
(1)Available production video reference;
(2)At the discretion, lead customers to visit the customer site;
6.Good after-sales service:
(1)The warranty of main gearbox is extended for free for three years;
(2)Modernized CNC processing equipment to fundamentally guarantee the supply of quantity and quality of equipment spare parts;
(3)We provide engineers overseas installation service.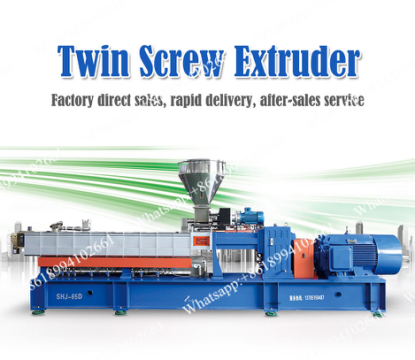 >>Gearbox
Reduction transmission: High torque gearbox
Germany HENSCHEL / ZAMBELLO
Reduction ratio: I = 2.5:1.
Output power: P1 = 200 kW
Input speed N1 = 1500 rpm
>>Screw
Screw Kneading block built on modular principle allows various L/D ratio of screw easily be changed to suit different material. Screw component made of high speed & wear-resisting steel.
>>Barrel
By means of the replaceable screw barrel sections, theprocessing sections is devided into individual zones. The barrels are heated electrically. In addition, the barrels are provided with longitudinal bores for cooling with water. Uniform temperature distribution, namely on the circumference of the eightshaped barrel bore, is achieved by a reverse forceflow temperature
control circuit. Connections of pipes for temperature control are
in groove-tongue design to balance alternating thermal stress and avoid leakage.