Product Description
Under water pelletizing part:
Equipment Specifications of the under water granulation machine-under water pelletizing machine
1. Diverter valve: it is before the double pistoion continuous screen changer
2. Die: Wear resistant high quality alloy steel.
3. Blade: wear-resistant alloy blade, service life of up to one year
4. Die heating: special die heating system (make sure the die temperature reaches desired).
5. pelletizer: motor power 7.5KW(Brand:WANNAN), speed : 3000 rev / min, AC variable speed.
6. cutter pressure control system: automatic pressure control.
7. underwater pelletizing cabinet: Siemens programmable (PLC) and touch screen control, one-touch boot. Easy to operate.
8. Water heating systems: the water temperature is heated to the desired temperature before normal working, automatic temperature control.
9. Pump: Motor power: 4.0KW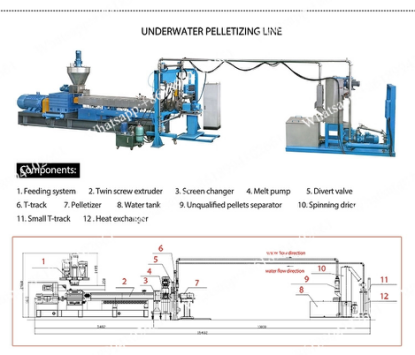 Screw barrel
The flexible modular principle is realized with screw barrel sections from the wide range of different designs possible.
Fast, intensive and uniform heating of the screw barrel sections is ensured by electrical heaters. The barrel sections are cooled by water, by means of an internal bore system, with bores arranged close to the inside barrel wall.
Barrel sections are available as:
· Closed barrel section;
· barrel section with opening for material feed or for devolatilization;
· Barrel section with top and lateral opening for top venting and the connection of a side feeder.