Product Description
Extruder is applied to gently melt the pre-compacted material. The plastic scraps will be well melted, plasticized in the extruder.
With double vacuum degassing system, volatiles such as low molecular and moisture will be removed efficiently, especially suitable for heavy printing film and material with much moisture.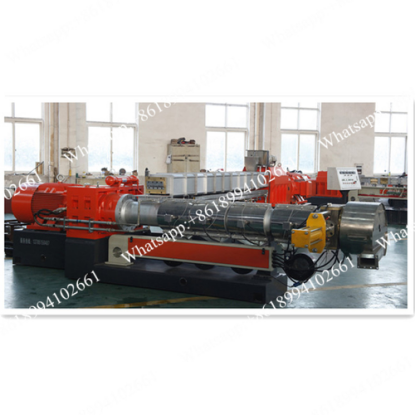 >>Gearbox
Reduction transmission: High torque gearbox
Germany HENSCHEL / ZAMBELLO
Reduction ratio: I = 2.5:1.
Output power: P1 = 200 kW
Input speed N1 = 1500 rpm
>>Screw
Screw Kneading block built on modular principle allows various L/D ratio of screw easily be changed to suit different material. Screw component made of high speed & wear-resisting steel.
>>Barrel
By means of the replaceable screw barrel sections, theprocessing sections is devided into individual zones. The barrels are heated electrically. In addition, the barrels are provided with longitudinal bores for cooling with water. Uniform temperature distribution, namely on the circumference of the eightshaped barrel bore, is achieved by a reverse forceflow temperature
control circuit. Connections of pipes for temperature control are
in groove-tongue design to balance alternating thermal stress and avoid leakage.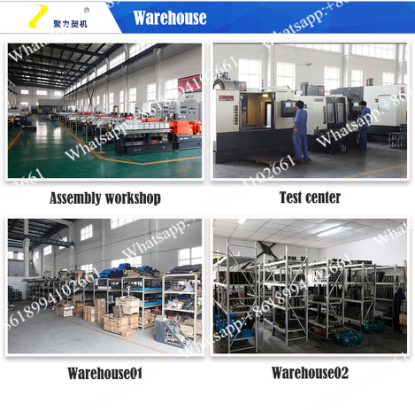 Pre-sales service
♦1.Introducing in detail features and application of the products to customer.
♦2.Selecting economical and practical machine & equipment for customer.
♦3.Providing operation data of the related machine & equipment.
♦4.Providing means of trial performance for customer.
Sales service
♦1.Recommending engineering conditions required for installation if the machine & equipment.
♦2.Communicating in time the manufacturing progress of the machine with user.
♦3.Providing assistance in technical conditions ,screw combination and barrel disposition needed for product.
After-sales service
♦1.Providing on-the-spot technical assistance in installation ,commissioning and training.
♦2.Filing in detail customer's information.
♦3.Providing long-term maintenance service and spare parts.
♦4.Giving technical support to customer for developing new product.
♦5.Providing free maintenance for a year.