Product Description
The machine is suitable for the production of plastic pellets such as PP, PE, PPR, ABS, EPS, etc. Its characteristics: no need to dry after crushing and washing, drying, granulation. High output, small degree of product discoloration. Feeding The system uses high speed blade cutting and forcing devices. The screw and barrel are treated with special surface treatment, which has the characteristics of wear resistance, good mixing effect and high output. The design of the exhaust or natural exhaust port can eliminate moisture and exhaust gas in the production process, make the discharge more stable, and the rubber particles are more compact, ensuring the excellent quality of the product.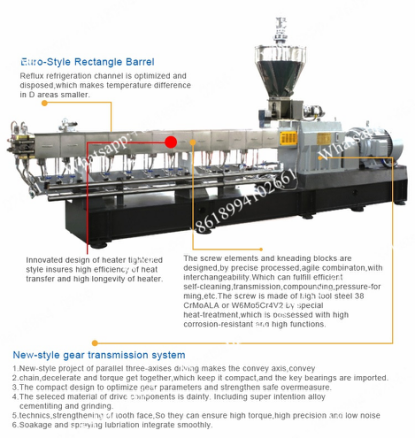 Application for water-cooling strand
1. Fiber reinforcement and modification: filling glass fiber or carbon fiber for: PP, PA, PBT, ABS, AS, POM, PPS, PET, etc
2. Ploymer compounding: PC+ABS, PA+ABS,CPE+ABS,PP+EPDM,PA+EPDM,
PA+SBS, etc.
3. Filling modified: Filling CaCO3,Talc,Titanium, carbon black for PVC PE,PP, EVA etc.
4. Cable material: cable sheath, cable insulation compounds,crosslinking compounds, optical fiber protection compounds, cable coating material, thermal contraction material,etc.
5. Dedicated material: PPR pipe compounds, PE crosslinking tube material, cigarettes filter tip material, acetate fiber material, etc.
6. High Concentration Color Masterbatch: PE,ABS,PS,EVA,PET,PP + color +
additives, etc.
7. Flaming Retardants: PVC, PP, PA, ABS, EVA, PBT + flame retardants, etc.
8. Special Functional Masterbatch: double protection masterbatch, antistatic masterbatch, anti-bacteria masterbatch, thermal insulation masterbatch, hypothermia material, etc.
9. The degradable masterbatch: PP, PE, PS + starch+ additives, etc.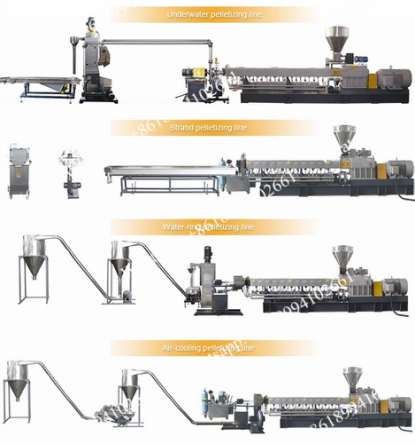 Features:
Barrel and screw clear easily
Materials changing in each section of barrel can be observed
Plasticizing performance is good, and extrusion pressure is big, so that color masterbatch material can be mixed uniformly and pigment ratio is high.