Product Description
SHJ Series Twin Screw Extruder are widely used in the compounding modification field, like the filling,reinforcement,toughening of plastics, engineer plastics and thermoplastics,and also for the special fibers and adhesive process. All models and parts have been upgraded with modernize CNC equipment. Our customers will have whole products range to meet their unique requirements.As the segment structure design, the equipment can be configured with different L/D,barrel designs, screen changer, pelletizing system, and/or electric control, to best meet unique requirements of different process.Cause our better understanding of the different material, the screw configuration is designed based on rich experience and software technology to accomplish the material conveying, plasticizing compounding,shear and dispersion and pressurization. Screw elements, accurately designed with CNC technology, are fully intermeshed, providing self-cleaning and easy interchangeability.Upgrading accuracy and quality of the standard and high torque gear box. The special new type barrel structure and screw elements been manufactured with our powerful design experience.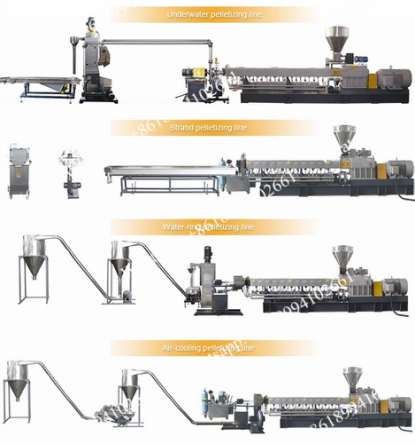 1.Strand Extruders for Filling/Compounding and Reinforcing
Fibre reiforcement : glass fibre, carbon fibre reinforced PP, PA, PBT, ABS, PC, POM, PPS, PET, etc.
Fibre reiforcement : glass fibre, carbon fibre reinforced PP, PA, PBT, ABS, PC, POM, PPS, PET, etc.
Incorporation of Fillers: Caco3, Talc, TiO2, carbon black,filled PE, PP, or EVA, etc.
Cable Compounds: cable sheath, cable insulation compounds of LDPE, HDPE, LLDPE, MDPE; radiation-crosslinkable compounds, optical fibre protection compounds, heat-shrinkable polymer compounds.
Special Compounds: PPR pipe compounds, PE compounds for crosslinked pipes, tobacco filter compounds, etc.
High Concentration Color Masterbatches: PE, ABS, PS, EVA, PP,etc. with high concentration of pigments and other processing aids.
Masterbatches with Flame-retardants: PE, ABS, PS, EVA, PET, PP, etc. with flame retardants and other additives.
The twin screw strand extruder also fit for PET bottles/ flakes recycling.
2. Water Ring Extruders for Filiing/Compounding/Modificating
PE, EVA etc. Filled with CACO3,talc,TIO2,carbon black etc.
Cable sheath, cable insulation compoundes of LDPE,HDPE,LLDPE,or MDPE;
Radiation-crosslinkable, heat-shrinkable cable compounds;
PPR pipe compounds, PE compounds for crosslinked pipes;
TPR, TPU thermoplastic elastomers; EVA and hot-melt adhesives;
Color concentrations of PE,ABS, PS,EVA,etc;
Flame retardant master batches of ABS,PS,EVA,etc;
Master batches with PE,PP,PS,etc carriers for degradation applications.
3.Air-cooling Extruders
Enforcing modification:PE,EVA etc.+CaCo3,Talc, TiO2,Carbon black.
Degradable master batch: PE,PS etc.+starch,additive etc.
Anti-flame master batch: PE, EVA etc.+Sb2O3, Mg(OH)2,AI2(OH)3 etc.
4. Underwater Extruders
1.The main material is PE+CaCO3
2.The metering feeders are equipped with single screw, twin screw, hollow screw, forced feeding ,side-feeding, etc
3.Different requirementsof feeding, such as power, pellet, lump and luqid material.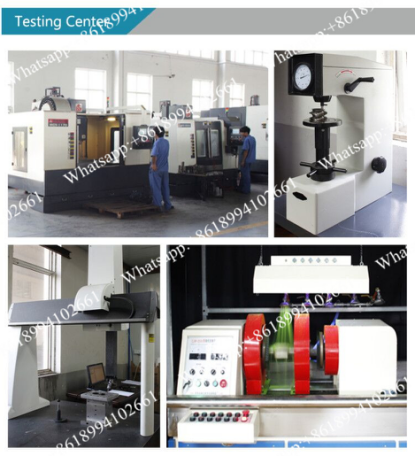 Pre-sales service
♦1.Introducing in detail features and application of the products to customer.
♦2.Selecting economical and practical machine & equipment for customer.
♦3.Providing operation data of the related machine & equipment.
♦4.Providing means of trial performance for customer.
Sales service
♦1.Recommending engineering conditions required for installation if the machine & equipment.
♦2.Communicating in time the manufacturing progress of the machine with user.
♦3.Providing assistance in technical conditions ,screw combination and barrel disposition needed for product.
After-sales service
♦1.Providing on-the-spot technical assistance in installation ,commissioning and training.
♦2.Filing in detail customer's information.
♦3.Providing long-term maintenance service and spare parts.
♦4.Giving technical support to customer for developing new product.