Product Description
CaCo3 filler masterbatch machine/PP PE masterbatch extruder
Wind cooling twin screw extruder is belong to High Torque Co-rotating Twin-screw Extruder. This parallel co-rotating twin screw extruders have excellent mixing performance,good self-cleaning performance and flexible modular configuration characteristics which make them suitable for processing different types of material.

Application field:
Filling modification
CaCo3
Talcum powder
Barium sulfate
Titanium pigment
Ceramic powder
Wood flour/plant fiber
Other inorganic filler

Reinforce modification
Short glass fiber
Long glass fiber
Carbon fiber
Other whisker
Preparation of master batch
Carbon black master-batch
Color master batch
Flame-retardant master-batch
Degradation master-batch
Other special functions master-batch

Blending modification
Thermoplastic material/TPE
Polymer alloys
Cable material
PVC cable material
Zero halogen cable material
PE TR-XLPE,NDH
PE cross-linking cable material
Special cable material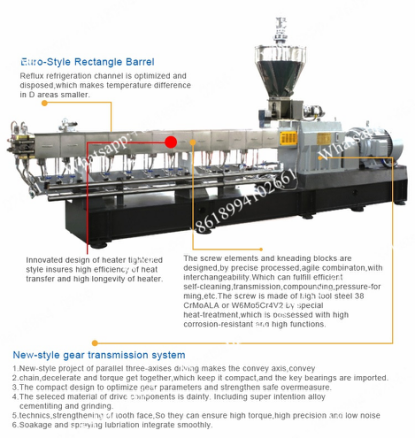 The advantage of plastic granulator:
1. High output
2. Main parts (reducer, motor, inverter) use domestic well-known brand, quality have assurance, equipment with long life and good performance.
3. Delicate appearance, Nice surface treatment .

4. Competitive price afford high quality equiment with fast delivery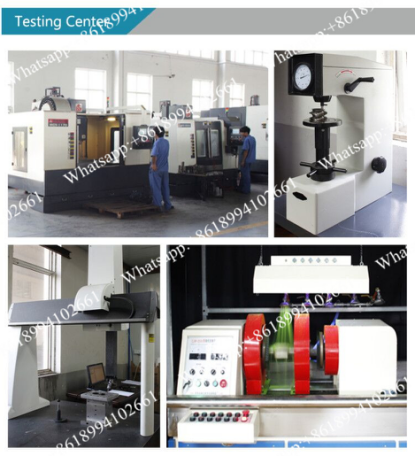 Applications of Twin Screw Extruder Machine:
· (1) Biodegradable material: PE/PLA/PBAT+starch/additives etc.;
· (2) Thick masterbatch:PE, ABS, PS, PP+ pigment, additives;
· (3) Flame retardant masterbatch: PP, PA, ABS+ flame retardant, additives, etc.;
· (4) Filling modification: PE/EVA+ calcium carbonate, talc powder,TiO2,carbon black, etc.;
· (5) Enhanced modification:PP,PA,PBT, ABS, AS, PC, POM, PPS, PET +glass fiber, carbon fiber;
· (6) Blending alloy: PC+ABS, PA+ABS, CPE+ABS, PP+EPDM, PA+EPDM, PP+SBS etc.;
· (7) Cable material: PVC、PE、low smoke and halogen free etc.;
· (8) Engineering plastics: ABS、PEEK、PC etc.;
· (9) Thermoplastic elastomer:TPU、TPE etc.;
· (10) Color masterbatch: PE, ABS, PS, EVA, PET, PP+pigment, auxiliaries;
(11) Flame retardant color mother: PP, PA, ABS, EVA, PBT+flame retardant.