Product Description
> Twin screw is parallel and corotation. The screw is modular design and enchangeable, the configuration such as L/D, barrel structure, screw arrangement, screen changer structure, quantity and location of air vent, discharging method and electric control method can be changed according to different formulation. Widely using for different processing high molecular material.
> New designed gear box and transmission system with high torque design, high accuracy gear processing, imported bearing, reasonable immersion type with forced lubricating unit guaranteed high performance and reliable smooth running.
> Newest involute spline shaft design to ensure the max bearing capacity and high torque transmit.
> Kneading type screw elements adopt to computer aided design which have excellent self-cleaning function and well interchangeability. Such as conveying element, compounding element, kneading element, refluence element and tooth form panel, etc, with reasonable elements to ensure the conveying, plasticizing, shearing, dispersing, homogenizing, exhausting and voltage building for high molecular material processing.
> Multiform feeder system for different condition of material such as single screw, twin screw, twin screw non-intermeshing type, hollow spring type, two-stage etc volumetric dosing feeder, also equip with loss-in-weight dosing feeding system for higher dosing requirement.
> More options for electric control system are imported products, i.e. , divided unit control, simulation panels display, PLC system, PEC system etc.
> Multiform pelletizing system for different solution, i.e., Water cooling/air cooling strand pelletizing, air cooling die face hot cutting, water-ring die face hot cutting, eccentric, water mist pelletizing, in/under water die face hot cutting.
> Normal barrel adopt to high quality nitrid steel for surface nitride treating or high performance bimetal alloy casing, also can use wear resistant whole tool steel liner, screw elements use high quality nitrid steel for surface treatment, or wear resistant high speed stool steel and anticorrosion and anti abrasive special surface treatment to meet different processing.
> Easy arrangement requests even ground without cement, but no foundation required.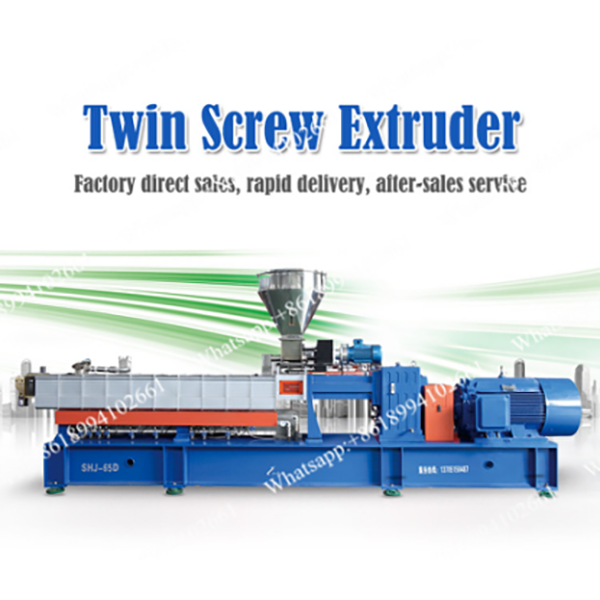 Underwater

pelletizing system

Pelletizer for the production of almost all thermoplastics, hot melt adhesives,

especially for some low hardness and high viscosity materials

Strand

pelletizing system

Pelletizer for the processing of the melted polymer to cylindrical,

dry and easy to handle plastics pellets

Water ring

pelletizing system

Pelletizer for the production of various masterbatch,

filled and reinforced products etc.

Air cooling

pelletizing system

Pelletizer for the production of temperature and shear-sensitive plastics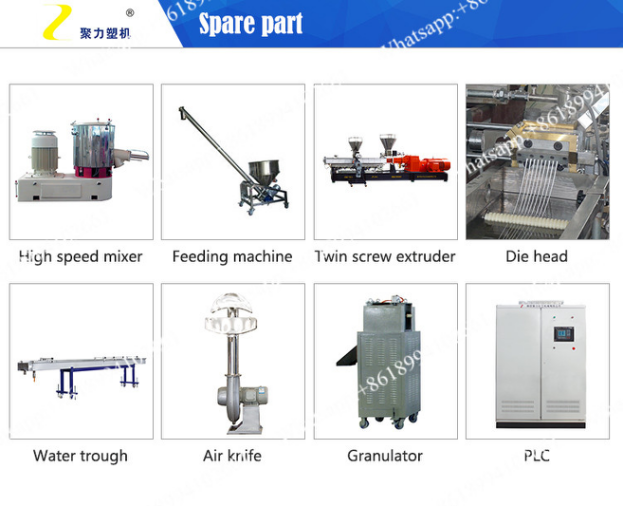 >>Gearbox
Reduction transmission: High torque gearbox
Germany HENSCHEL / ZAMBELLO
Reduction ratio: I = 2.5:1.
Output power: P1 = 200 kW
Input speed N1 = 1500 rpm
>>Screw
Screw Kneading block built on modular principle allows various L/D ratio of screw easily be changed to suit different material. Screw component made of high speed & wear-resisting steel.
>>Barrel
By means of the replaceable screw barrel sections, theprocessing sections is devided into individual zones. The barrels are heated electrically. In addition, the barrels are provided with longitudinal bores for cooling with water. Uniform temperature distribution, namely on the circumference of the eightshaped barrel bore, is achieved by a reverse forceflow temperature
control circuit. Connections of pipes for temperature control are
in groove-tongue design to balance alternating thermal stress and avoid leakage.