Product Description
Lab/ mini Waste Plastic Recycling Extruder Machine can test even only a small amount of material, especially for color-matching, raw material evaluation, new formula research and development and pre-screening for pre-mixing materials.
Lab/ mini Waste Plastic Recycling Extruder Machine is handy and convenient with attractive price-performance ratio, and is the best choice for various institutes labs, universities and research institutes.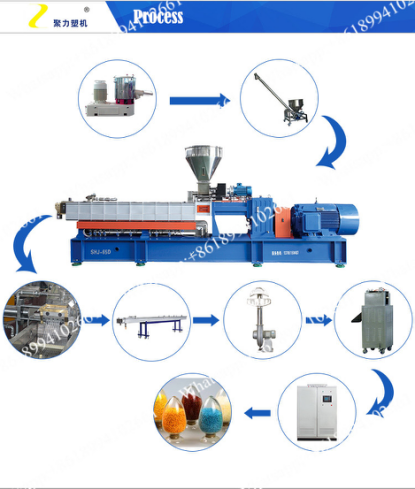 1.Strand Extruders for Filling/Compounding and Reinforcing
Fibre reiforcement : glass fibre, carbon fibre reinforced PP, PA, PBT, ABS, PC, POM, PPS, PET, etc.
Fibre reiforcement : glass fibre, carbon fibre reinforced PP, PA, PBT, ABS, PC, POM, PPS, PET, etc.
Incorporation of Fillers: Caco3, Talc, TiO2, carbon black,filled PE, PP, or EVA, etc.
Cable Compounds: cable sheath, cable insulation compounds of LDPE, HDPE, LLDPE, MDPE; radiation-crosslinkable compounds, optical fibre protection compounds, heat-shrinkable polymer compounds.
Special Compounds: PPR pipe compounds, PE compounds for crosslinked pipes, tobacco filter compounds, etc.
High Concentration Color Masterbatches: PE, ABS, PS, EVA, PP,etc. with high concentration of pigments and other processing aids.
Masterbatches with Flame-retardants: PE, ABS, PS, EVA, PET, PP, etc. with flame retardants and other additives.
The twin screw strand extruder also fit for PET bottles/ flakes recycling.
2. Water Ring Extruders for Filiing/Compounding/Modificating
PE, EVA etc. Filled with CACO3,talc,TIO2,carbon black etc.
Cable sheath, cable insulation compoundes of LDPE,HDPE,LLDPE,or MDPE;
Radiation-crosslinkable, heat-shrinkable cable compounds;
PPR pipe compounds, PE compounds for crosslinked pipes;
TPR, TPU thermoplastic elastomers; EVA and hot-melt adhesives;
Color concentrations of PE,ABS, PS,EVA,etc;
Flame retardant master batches of ABS,PS,EVA,etc;
Master batches with PE,PP,PS,etc carriers for degradation applications.
3.Air-cooling Extruders
Enforcing modification:PE,EVA etc.+CaCo3,Talc, TiO2,Carbon black.
Degradable master batch: PE,PS etc.+starch,additive etc.
Anti-flame master batch: PE, EVA etc.+Sb2O3, Mg(OH)2,AI2(OH)3 etc.
4. Underwater Extruders
1.The main material is PE+CaCO3
2.The metering feeders are equipped with single screw, twin screw, hollow screw, forced feeding ,side-feeding, etc
3.Different requirementsof feeding, such as power, pellet, lump and luqid material.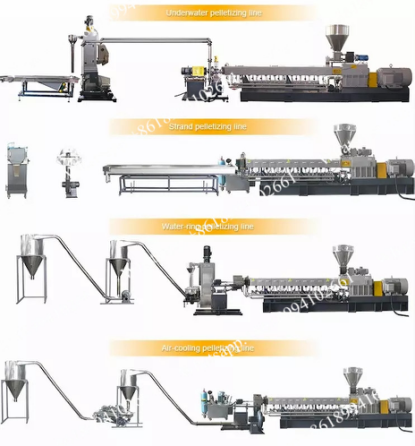 FAQ
Q1: Are you a factory or trading company ? How is you factory extrusion experience?
A: We are factory in Nanjing , 20 years experience on extrusion.Leading supplier in Nanjing city.
Q2:Where is your factory located? How can I visit there?
A : Our factory is based in 77 Tangtong Rd,Hushu,Jiangning District Nanjing , Jiangsu Province, China,
1) You can fly to Nanjing Lukou Airport or you can fly to Shanghai then take high-speed train to Nanjing South Railway Station.
2) We will arrange the pick up in Nanjing Lukou airport or South Railway Station
Q3:What can you provide for after sale service?
A:We can send engineers to your factory for installation and training if customers' required
Q4:If we have very special request for the production line,could you help me to do the design?
A:Experienced mechanical designer customized-design provided.
Q5:Could you afford technician team to guide ours installation and commissioning?
A:Experience engineer oversea installation service provided.
Q6: Why choose you ?
A: 1) Quick response. Once we got the inquiries from you, we will reply you within 12hours.
2) Promising leading time. To guarantee the quality, the machine will be finished within max 20days.
3) Before leaving factory, all the machine will be fully tested.
4) Customized package(Wooden) will ensure a safety shipping.