Product Description
The nylon+long glass fiber reinforced polymer plastic compounding parallel co-rorating twin screw extruder is one multipurpose production facility, we use the latest technology of double composite extrusion production line to design and manufacture the plastic compounding parallel co-rotating twin screw extruder, it can meet all the main application. We guarantee the quality of nylon+long glass fiber reinforced polymer plastic compounding parallel co-rotating twin screw extruder, high performance equipment available to you, please rest assured choose.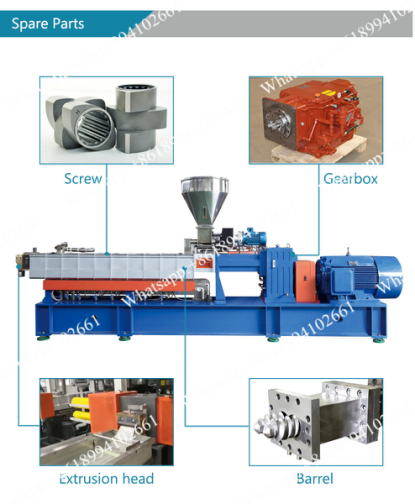 Underwater

pelletizing system

Pelletizer for the production of almost all thermoplastics, hot melt adhesives,

especially for some low hardness and high viscosity materials

Strand

pelletizing system

Pelletizer for the processing of the melted polymer to cylindrical,

dry and easy to handle plastics pellets

Water ring

pelletizing system

Pelletizer for the production of various masterbatch,

filled and reinforced products etc.

Air cooling

pelletizing system

Pelletizer for the production of temperature and shear-sensitive plastics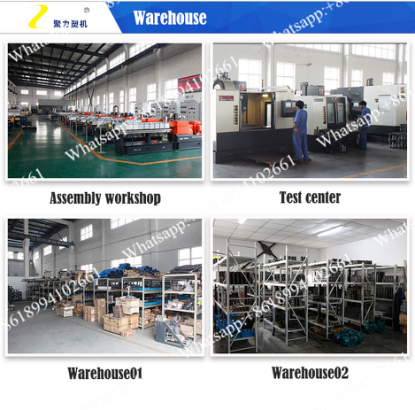 Co-rotating Parallel Twin Screw Extruder Features
1. Screw components designed by computer aids is kneading type, has excellent self-cleaning function, the new kneading block design effectively avoid the problems of overheating and energy consumption.
2. According to process system and formula requirements, the unit can optimize its L/D ratio, barrel structure, screw array, venting number and location, feeding method, electrical control methods etc. for rational allocation.
3. Granulation system: water-cooling strand pelletizing, air-cooling die face hot cutting, water ring die face hot cutting, Eccentric water mist hot cutting, water and underwater die face hot cutting and so on.
4. Application: Filling Modification, glass fiber (carbon fiber) enhance various kinds of master batch, rubber and plastics compounding, plastic alloys, functional master batch, Various kinds of electric cable material, reactive extrusion. Devolatilization process, powder coating and so on.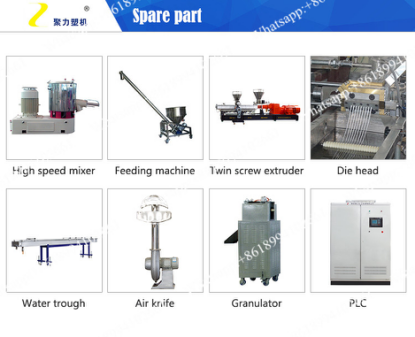 1.Energy-saving:
All main motors of machine use Variable Frequency Motor(AC), eliminating three-phase asynchronous motors;
Variable Frequency Motor:
(1) Speed regulation is easy and energy saving.
(2) AC motor has simple structure, small volume, small inertia, low cost, easy maintenance and durability.
(3) It can expand output and achieve high speed and high voltage operation.
(4) Soft start and fast brake can be achieved.
(5) No spark, explosion-proof, and strong environmental adaptability.
2.High output:
Take "PP" material as an example, the PP material is tested on the customer's site, our machines' actual production output is 10%-20% higher than the same model in the market;
3.Simple installation:
The equipment is easy to install, only need to be connected to the inlet and outlet water, which can save 2 days of installation time;
4.Advanced design:
(1)All electrical components are imported famous brands, like German "SIEMENS", France "SCHNEIDER", United States "CEME", Japan "ORMON" "TOSHIBA" "FUJI" etc.;
(2)The industry's first advanced dust cover design, beautiful appearance and simple maintenance;
(3)Use a thicker and more heat-resistant heater to ensure the heating effect of the barrel and the service life of the heater;
(4)The water cooling system of the barrel adopts stainless steel pipes and valves;
5.Others:
(1)Available production video reference;
(2)At the discretion, lead customers to visit the customer site;
6.Good after-sales service:
(1)The warranty of main gearbox is extended for free for three years;
(2)Modernized CNC processing equipment to fundamentally guarantee the supply of quantity and quality of equipment spare parts;
(3)We provide engineers overseas installation service.