Product Description
1. Biodegradable and compostable plastic pelletizing machine modification: corn startch, potato starch,cassava startch compounding with PLA, PBAT, PVA etc
2. Degradable master batch: PE, PS, etc. + starch, additives etc.
3. Anti-flame master batch: PE, EVA, etc. + Mg(OH)2, Al2(OH)3, etc.
Corn cassava starch biodegradable plastic pellets granules masterbatch machine

Product name

100% biodegradable granule making machine

Processing material

PLA/PBAT/PVA+Corn starch/Cassava starch+some small additives

Final product

100% biodegradable granule

Application

Films, bags, plates, cups, straws, chopsticks,etc

Capacity

10~1000KG/H (We can provide any capacity model as per cutomers' need)

Certification

CE&ISO

Formula

Available (We have formulation, it can be provide to customers together with the machine)

Project

Turn-key project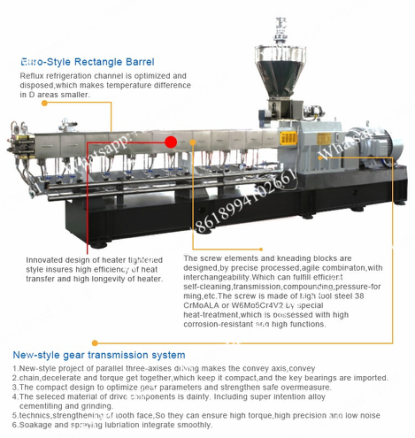 Underwater

pelletizing system

Pelletizer for the production of almost all thermoplastics, hot melt adhesives,

especially for some low hardness and high viscosity materials

Strand

pelletizing system

Pelletizer for the processing of the melted polymer to cylindrical,

dry and easy to handle plastics pellets

Water ring

pelletizing system

Pelletizer for the production of various masterbatch,

filled and reinforced products etc.

Air cooling

pelletizing system

Pelletizer for the production of temperature and shear-sensitive plastics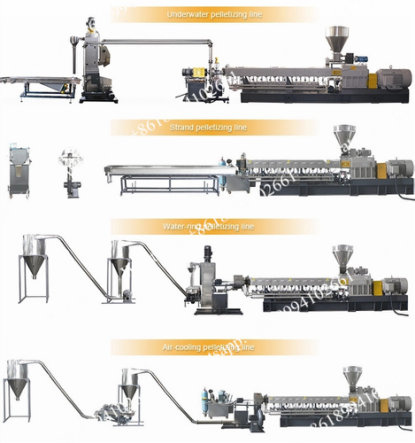 >>Gearbox
Reduction transmission: High torque gearbox
Germany HENSCHEL / ZAMBELLO
Reduction ratio: I = 2.5:1.
Output power: P1 = 200 kW
Input speed N1 = 1500 rpm
>>Screw
Screw Kneading block built on modular principle allows various L/D ratio of screw easily be changed to suit different material. Screw component made of high speed & wear-resisting steel.
>>Barrel
By means of the replaceable screw barrel sections, theprocessing sections is devided into individual zones. The barrels are heated electrically. In addition, the barrels are provided with longitudinal bores for cooling with water. Uniform temperature distribution, namely on the circumference of the eightshaped barrel bore, is achieved by a reverse forceflow temperature
control circuit. Connections of pipes for temperature control are
in groove-tongue design to balance alternating thermal stress and avoid leakage.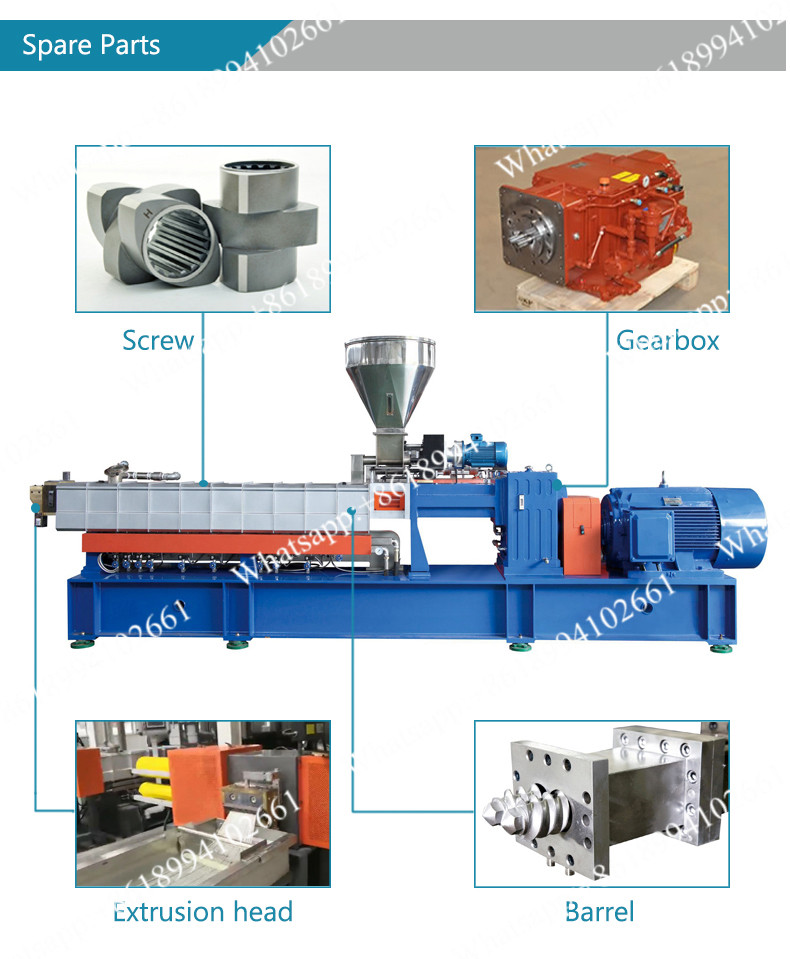 Parallel co-rotating twin screw extruders have excellent mixing performance, good self cleaning performance and flexible modular configuration characteristics which make
them suitable for processing different types of material systems, and are extensively used in fields of polymer processing ,foodstuff processing and chemical products, especially for various high molecular materials.
In most cases , parallel co-rotating twin screw extruders are used as mixing equipments . ln processing high molecular materials, the modification process and master batch preparation of polyolefin materials and engineering plastics require sufficient and intensive mixing, which differs depending on material systems, Excellent equipment performance, reasonable mixing process, advanced combination technique and rich processing experience are the key factors determining the success and efficiency of mixing.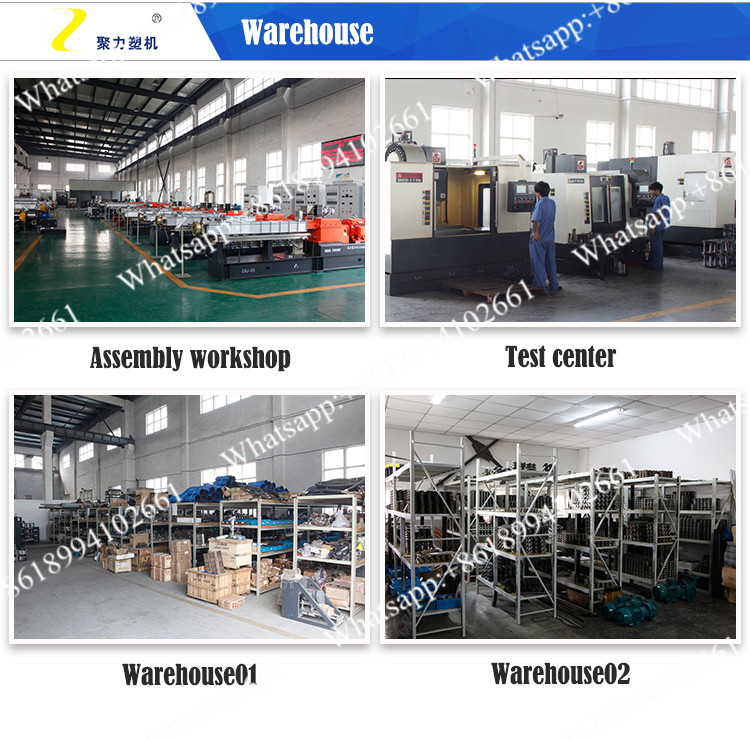 4.Quality Control:
A. Fixed Equipments for Q/C
B. Professional team of Q/C
C. Qualified successfully before get in warehouse
D. Checking Machines before shipment
5.Service Systems:
A. Before-sale
a. Introduce products and applications detain
b. Recommend suitable solution
c. Provide with reference in formation
d. Offer lab for test
B. During manufacturing
a. Provide with layout and engineering conditions
b. Inform the project processing status
c. Offer other documents
C. After-sale
a. Provide with installation ,commissioning and training
b. Register and record customer information
c. Offer spare parts
d. Provide with necessary technical support for new application
e. Visit customer regularly and correct information