Product Description
Parallel twin screw extruder is a kind of special equipment for extruding various powder.Equipped with different molds and auxiliary machinery,it can produce all sorts of plastic pipe,profile,board,sheet,stick and granules.
The screw is cooled by oil cooling system.The barrel is with special wind cooling system.The control system adopts special computer control.According to customer requirements of different formula,the most reasonable screw can be made so as to achieve the optimal plasticizing state and material quality.The screws are all made by high precision of special CNC screw milling machine,to ensure each extruder of extruding performance highly consistency.Take the lead in introducing the most advanced screw design of variable pitch and depth,makes the material sheared and compressed more softly.It is closer to the actual needs.The distribution box is specially designed.The thrust bearing is extraordinarily increased and fully imported.Its drive life is long and can support the greater pressure. The electrical system mainly uses imported components,and has a number of alarm system,low malfunction,convenient elimination.The cooling system has applied special design,the heat radiating area is enlarged,the cooling is rapid and the temperature control precision can be ±1 degree centigrade.
Parallel twin screw extruder has the characteristic of small shearing force,so that it is especially suitable for high speed profile extrusion and large diameter pipe extrusion.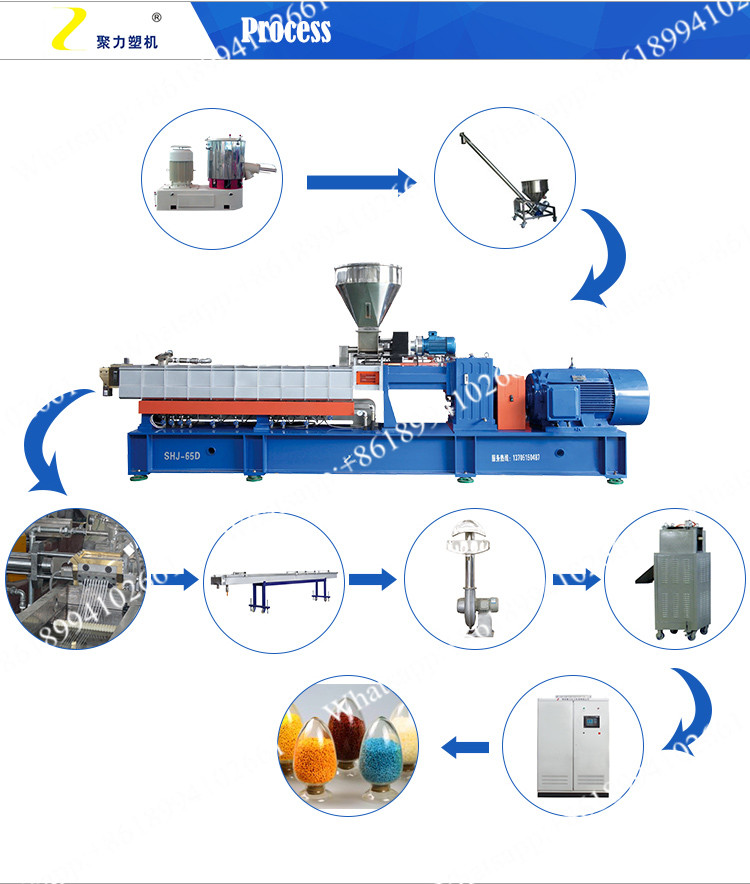 Underwater

pelletizing system

Pelletizer for the production of almost all thermoplastics, hot melt adhesives,

especially for some low hardness and high viscosity materials

Strand

pelletizing system

Pelletizer for the processing of the melted polymer to cylindrical,

dry and easy to handle plastics pellets

Water ring

pelletizing system

Pelletizer for the production of various masterbatch,

filled and reinforced products etc.

Air cooling

pelletizing system

Pelletizer for the production of temperature and shear-sensitive plastics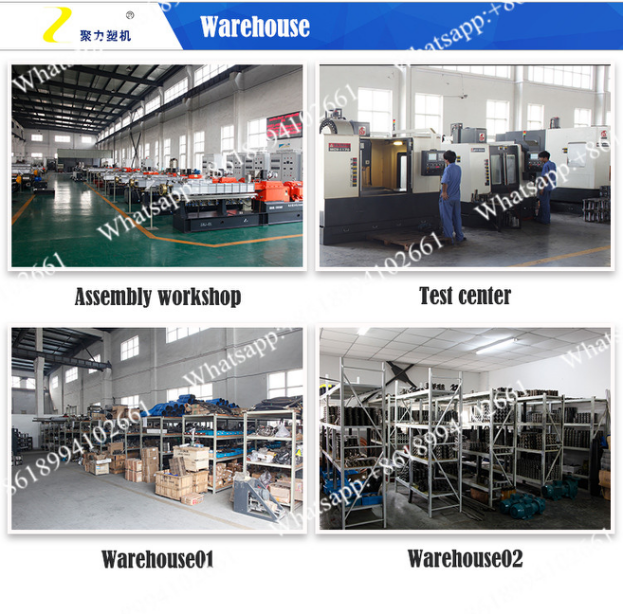 Main advantage of Granules Extruder Machinery Plant:
1.Inverted rotation double-screw stem makes the material flow in shape. This can meet the technique demands of transport, compression, mixture and refining, exhaust, plasticizing of the material.
2.The special oil heating system in the core of the screw stem can ensure the relative stability of the product quality.
3.Different models of screw stems of the machine are designed to match the relevant auxiliary machine to produce all kinds of pipe material, shaped material, grains and others.
4.Parallel twin Screw Extruder has advantages of advanced design, compact structure, excellent characteristics, beautiful appearance, steady operation, low energy consumprion, high output and long use life.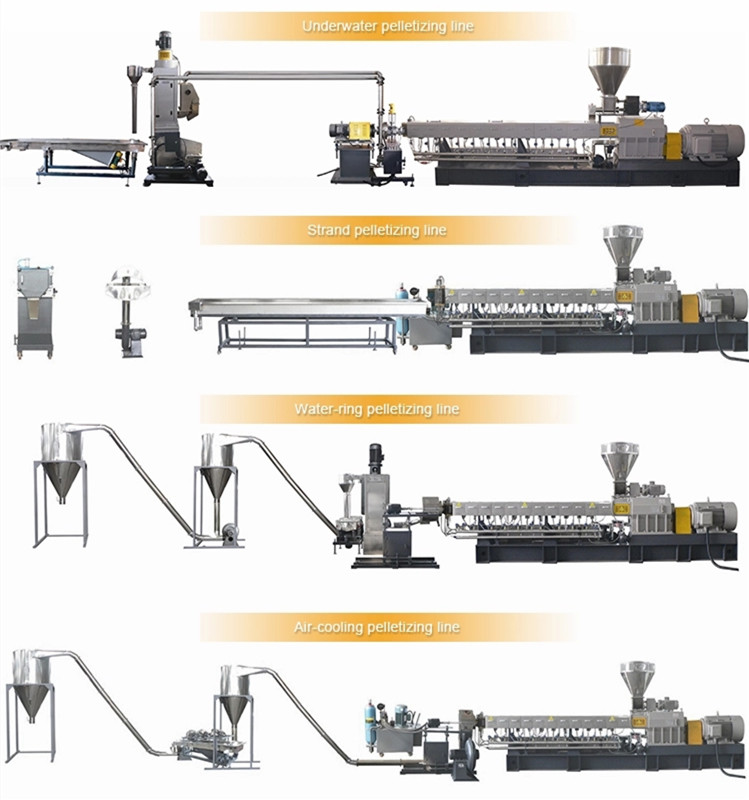 Before-sale
1. Introduce products and applications detain
2. Recommend suitable solution
3. Provide with reference in formation
4. Offer lab for test
During manufacturing
1. Provide with layout and engineering conditions
2. Inform the project processing status
3. Offer other documents
After-sale
1. Provide with installation ,commissioning and training
3. Offer spare parts
4. Provide with technical support
5. Visit customer regularly and correct information