Product Description
1.Purpose of mixing under the condition of lower L/D ratio screw.
2. High dispersion, high filling capacity, such as modification of polyolefin, modification of engineering plastics, etc.
3. High concentration of master batch and other functional master batches with high dispersing effect, such as high concentration black and white master batch, highly filled flame retardant, and semi conductive material, etc.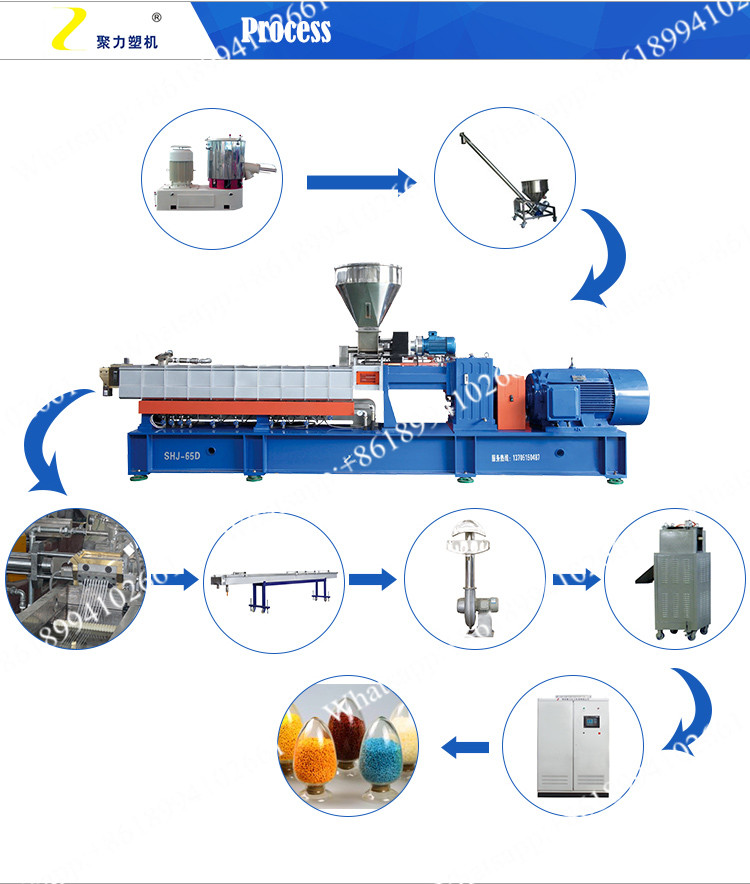 1.Strand Extruders
Fibre reiforcement : glass fibre, carbon fibre reinforced PP, PA, PBT, ABS, PC, POM, PPS, PET, etc.
Incorporation of Fillers: Caco3, Talc, TiO2, carbon black,filled PE, PP, or EVA, etc.
Cable Compounds: cable sheath, cable insulation compounds ;
Special Compounds: PPR pipe compounds, PE compounds for crosslinked pipes, tobacco filter compounds, etc.
High Concentration Color Masterbatches: PE, ABS, PS, EVA, PP,etc. with high concentration of pigments and other processing aids.
The twin screw strand extruder also fit for PET flakes recycling.
2. Water Ring Extruders
PE, EVA etc. Filled with CACO3,talc,TIO2,carbon black etc.
Cable sheath, cable insulation compoundes of LDPE,HDPE,LLDPE,or MDPE;
Radiation-crosslinkable, heat-shrinkable cable compounds;
PPR pipe compounds, PE compounds for crosslinked pipes;
TPR, TPU thermoplastic elastomers; EVA and hot-melt adhesives;
Color concentrations of PE,ABS, PS,EVA,etc;
Flame retardant master batches of ABS,PS,EVA,etc;
3.Air-cooling Extruders
Enforcing modification:PE,EVA etc.+CaCo3,Talc, TiO2,Carbon black.
Degradable master batch: PE,PS etc.+starch,additive etc.
Anti-flame master batch: PE, EVA etc.+Sb2O3, Mg(OH)2,AI2(OH)3 etc.
4. Underwater Extruders
The main material is PE+CaCO3
The metering feeders are equipped with twin screw, hollow screw, forced feeding ,side-feeding, etc
Different requirementsof feeding, such as power, pellet, lump and luqid material.