Product Description
1. Technical data :
Brand disposable biodegradable starch eco-friendly tableware &production line adopts advanced comquterized automatic control system with high production efficiency. it's reliable and capable of mass production it's used for production of disposable biodegradable starch eco-friendly tableware as well as other plastic products.
Apliphatic polyester with its superior performance on a biodegradable materials used in the area occupies play very important position. Polylactic acid (PLA) and succinic acid ester (PBS), Gather hydroxy acid ester (PHA), silane PHBV, such products have occupied the market share of the important of biodegradable materials. But biological base biodegradable materials, with it not rely on petroleum resources, The green environmental protection and renewable advantages in recent years has developed rapidly and become a ignored new strength, in the biodegradable material area.
Degradable plastics compoent material and manufacturing equipment.
1.Main material
Starch, lactone (PCL), succinic acid, butanediol esters (PBS), poly lactic acid (PLA), and ethylene/acrylate copolymer (EEA), bentonite, light/oxidation degradation materials, processing assistant, etc.
2.Manufacturing equipment
Will these materials in setting temperature and time, according to the proportion and order into special cohesive high-speed mixer, to treat and modification the material surface, to make each material mixing and compatibility between, then to plastify, and mixed by the JULI twin-screw extruder, to made of pure biological composite biodegradable materials.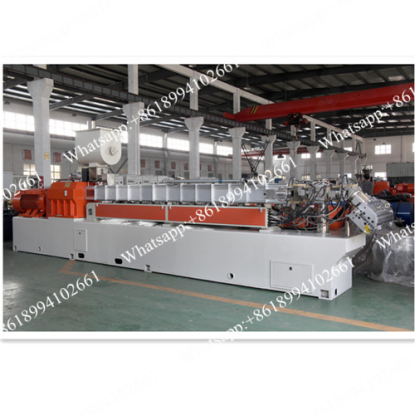 Parameters

Model

SHJ75

SHJ65

SHJ50

SHJ35

Screw Diameter

72mm

63mm

51mm

35mm

Screw Center Distance

60mm

52mm

42mm

30mm

Screw Speed

0-500r/min

0-500r/min

0-500r/min

0-500r/min

Screw L/D Ratio

1/52

1/52

1/52

1/52

Production Capacity

150-300kg/h

100-250kg/h

80-180kg/h

20-100kg/h

Total Power

230kw

200kw

150kw

100kw

Melt Pump

200cc

175cc

100cc

50cc

Die Head Width

780mm

680mm

580mm

380mm

Roller Spec

423×800mm

423×700mm

423×600mm

423×400mm

Mirror Accuracy of Roll

Ra0-0.12um

Ra0-0.12um

Ra0-0.12um

Ra0-0.12um

Speed of Three-roll Wire

0-50m/min

0-50m/min

0-50m/min

0-50m/min

Product Thickness

0.25-2.2mm

0.25-2.2mm

0.25-2.2mm

0.25-2.2mm

Water Consumption (Circulating Water)

50kg/min

40kg/min

35kg/min

30kg/min

Total Weight

12T

10T

7.5T

6.5T

Total Volume

18000×18000
×2680mm

16000×17000
×2580mm

14000×16000
×2482mm

12000×15000
×2363mm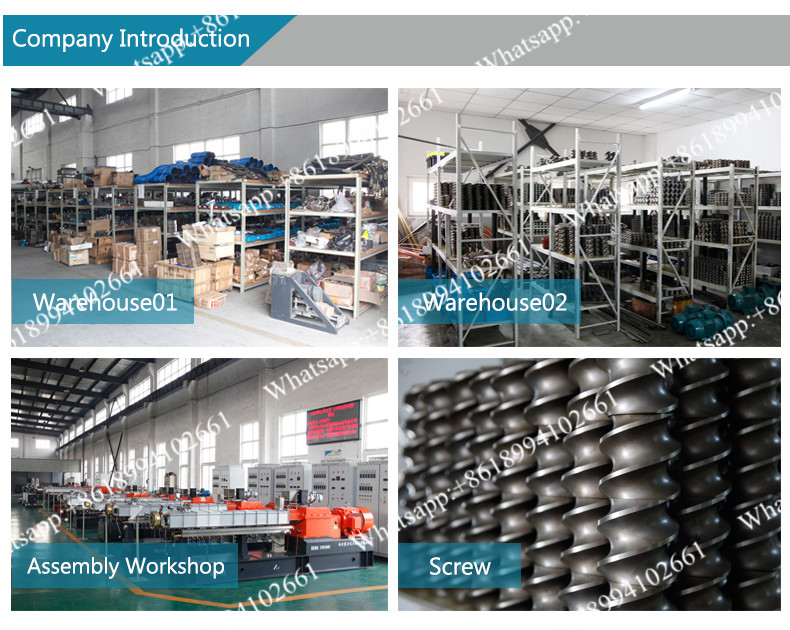 FAQ
Q1: Are you a factory or trading company ? How is you factory extrusion experience?
A: We are factory in Nanjing , 20 years experience on extrusion.Leading supplier in Nanjing city.
Q2:Where is your factory located? How can I visit there?
A : Our factory is based in 77 Tangtong Rd,Hushu,Jiangning District Nanjing , Jiangsu Province, China,
1) You can fly to Nanjing Lukou Airport or you can fly to Shanghai then take high-speed train to Nanjing South Railway Station.
2) We will arrange the pick up in Nanjing Lukou airport or South Railway Station
Q3:What can you provide for after sale service?
A:We can send engineers to your factory for installation and training if customers' required
Q4:If we have very special request for the production line,could you help me to do the design?
A:Experienced mechanical designer customized-design provided.
Q5:Could you afford technician team to guide ours installation and commissioning?
A:Experience engineer oversea installation service provided.
Q6: Why choose you ?
A: 1) Quick response. Once we got the inquiries from you, we will reply you within 12hours.
2) Promising leading time. To guarantee the quality, the machine will be finished within max 20days.
3) Before leaving factory, all the machine will be fully tested.
4) Customized package(Wooden) will ensure a safety shipping.